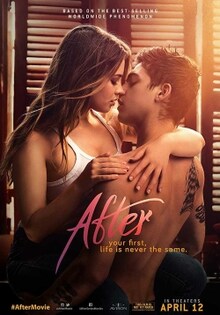 After
English, Hindi, Tamil, Telgu
Updated: Jul 28, 2021
After: Release Date, Trailer, Songs, Cast and More
| | |
| --- | --- |
| Release Date | 12th Apr 2019 |
| Language | English, Hindi, Tamil, Telgu |
| Genre | Romance, Drama |
| Duration | 1 hrs 48 mins |
| Cast | Josephine Langford, Hero Fiennes-Tiffin, Selma Blair, Inanna Sarkis, Shane Paul McGhie, Pia Mia, Khadijha Red Thunder, Dylan Arnold, Samuel Larsen, Jennifer Beals, Peter Gallagher |
| Director | Jenny Gage |
| Producer | Jennifer Gibgot, Anna Todd, Mark Canton, Courtney Solomon, Aron Levitz, Meadow Williams, Swen Temmel, Dennis Pelino |
| Music Director | Justin Burnett |
| Certificate | U/A |
| Production | CalMaple Media, Offspring Entertainment, Voltage Pictures, Wattpad, Diamond Film Productions |
| Budget | $14 million |
| Your Rating: | |
About After Movie
'After', directed by Jenny Gage, is based on the Bestselling novel by Anna Todd. The book became a sensation on the online writing platform Wattpad, and ever since it was in the process of becoming a film, the film has been a highly anticipated one. The film stars, Selma Blair, Hero Fiennes Tiffin, Josephine Langford and Peter Gallagher. The plot of the film circles around a young girl named Tessa (Josephine Langford) who is all set to make her way to college. A diligent student, loving daughter, ambitious learner, Tessa is oblivious to what college has in store for her. Upon meeting the brooding, mysterious and ruggedly attractive, Hardin Scott (Hero Fiennes Tiffin), her world tosses upside down and reveals things to her about herself she never would have anticipated discovering.
The plot unfolds with new twists, and revelations about the brooding rebel, Hardin, making you nervous while watching Tessa unravel around him. The story keeps you glued to your seats, wanting to know where the intriguing tale of Hardin, takes Tessa and what is it that makes him as mysterious as he is-his dark secrets. Tessa's world changes and her attachment to Hardin, takes her through an emotional journey, filled with challenges and intrigue. The film's tagline is "After your first, Life is never the same", and this is what keeps you hooked through the riveting tale.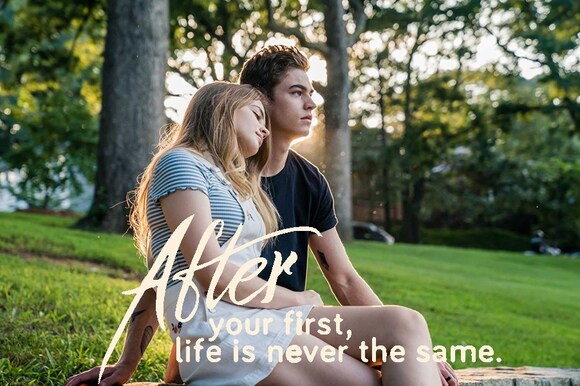 After Movie Ticket Offers, Online Booking, Ticket Price, Reviews and Ratings
After Movie Review
After is the seemingly classic tale of dangerous, mysterious guy meets a grounded girl who falls for him. However, what makes the story interesting and an engrossing watch is the aspect of Hardin's strong character traits such as his mysterious and secretive nature, which build up suspense you really do not want to miss. The author, of the book 'After' had a major fan following as it created quite a buzz on the internet, and therefore the wait for the movie for the fans, had been an exciting one. The internet has reviews published where fans talk about how happy they were to go watch 'After'. Some major wins for this movie would be the music and scripting. The dialogues and certain scene placements will fill your heart.
The adaptation, did retain most of the literary goodness from the book but also had additional scenes present, which did full justice do the storyline. The story incorporates all the zesty flavours of a good teenage-drama such as love interests, backstabbing, and emotionally intense scenes between the two leads. However, a few areas of criticism do exist. Since the film is an adaptation from a novel, comparisons between the two sources of content are bound to arise, hence, leaving room for disappointment. A few characters could have been played better in order to retain their fervour from the novel. A major instance of this was Zed's strong feelings and evident infatuation towards Tessa, which was not present in the filmif, without which there was a bit of a blank in the storyline. Some personalities from the film, could have been given more prominence in order to enhance certain aspects of the film.
The film quite possibly, will leave you wanting more. Steaminess between the leads and a brooding chemistry is not all it takes to make a story riveting enough. The film could have been a better rounded one. All characters in the book add something to the story, which was something lost in translation here, as on screen, a lot of these components were nowhere to be seen. Nevertheless, with the kind of fan following the books and the film have had, the perceptions drawn from it post viewing, could be very subjective, from person to person. In fact, evidently, a lot of fans have been posting online about wanting the film to have a sequel!

Viveka is known to her friends as a movie junkie who is also a creative fashion enthusiast in red lipstick. She's passionate about writing! Be it fashion, beauty or movies she is pro. In her free time, she loves to play badminton, cook and binge watch movies. She's also a great observer who has a quirky take on various things, well only close ones know this. Nothing stops her from personifying the creative game.