Resolved to keep Annabelle from unleashing more devastation, demonologists Ed and Lorraine Warren take the demonic doll to the secured confines of the artefacts room of their home, placing her "securely" behind consecrated glass and surrounding it with a holy minister's sacred blessing. The holy blessing fails to do justice as Annabelle creates mayhem as she awakens the dreaded spirits of the artefacts room. The evil in the room set their focus on another objective - the Warrens' ten-year-old little girl, Judy, and her companions. Directed by, Gary Dauberman, Annabelle Comes Home has released on June 26, 2019. What makes this film even more wicked is the aspect of its cast- Patrick Wilson and Vera Farmiga as the Warrens, which connects this sequel to both Annabelle and Conjuring.
Annabelle Comes Home Movie Release Date, Trailer and Cast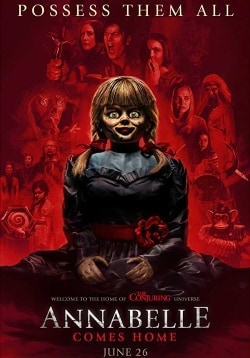 Release Date:
26th June 2019
Language:
English, Hindi, Tamil, Telgu
Genre:
Horror, Mystery, Thriller
Cast:
Mckenna Grace, Madison Iseman, Katie Sarife, Patrick Wilson, Vera Farmiga
Producer:
James Wan, Peter Safran
Music Director:
Joseph Bishara
Cinematography:
Michael Burgess
Production:
New Line Cinema, Atomic Monster Productions, The Safran Company
Users Rating:
Annabelle Comes Home Movie Trailer
They said "sometimes it's better to keep the Genie in the bottle", but is it really? Stay tuned with the teasers and trailers to know more about what havoc Annabelle has in store for us this summer.