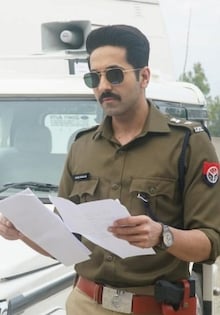 Article 15
Hindi
Updated: Jul 28, 2021
User Rating
3.5 ★
(Rating: 3.5/5 - 22 votes)
Article 15: Release Date, Trailer, Songs, Cast and More
| | |
| --- | --- |
| Release Date | 28th Jun 2019 |
| Language | Hindi |
| Genre | Investigation, Drama |
| Duration | 2 hrs 10 mins |
| Cast | Ayushmann Khurrana, Isha Talwar, Sayani Gupta, Kumud Mishra |
| Director | Anubhav Sinha |
| Producer | Anubhav Sinha, Zee Studios |
| Music Director | Rochak Kohli; Background Score: Salim-Sulaiman |
| Certificate | U/A |
| Cinematography | V. Manikandan |
| Production | Benaras Media Works, Zee Studios |
| Critics Rating | |
| Your Rating: | |
About Article 15 Movie
Ayushmann who enjoyed a successful 2018 with Badhaai Ho and Andhadhun last year will now be next in the Anubhav Sinha's, "Article 15" who has also helmed Mulk. The first look of Article 15 is making this drama another much-awaited Bollywood film which is an investigative drama flick which has Ayushmann Khurrana in lead role of protagonist and also comprises of stellar support cast, Isha Talwar, Sayani Gupta, Kumud Mishra, Manoj Pahwa, M Naser, Ashish Verma, Subrajyoti Bharat, Sushil Pandey and Zeeshan Ayub, who are great at their craft. Article 15, is proclaimed to be one of the most explosive drama movies of 2019 as it is inspired by the true life events which are based on sexism, communalism and extremism. The movie Article 15 movie has released on 28th June 2019, until then stay calm and wait for more details.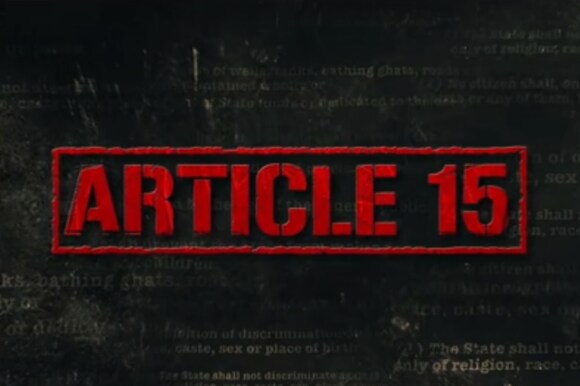 Article 15 Movie Ticket Offers, Online Booking, Ticket Price, Reviews and Ratings
Article 15 Movie Review
Article 15, hit the right chord which most of us agree to when it comes to casteism. In Mulk, Taapsee Pannu plays the role of a Hindu lawyer and fight for her Muslim father-in-law against the charges of terrorism. Article 15 movie is based on the Indian constitution which prohibits discrimination on the basis of religion, caste, sex, place of birth and so on. In India, caste is something that defines your identity and not the name. Article 15 is perfectly rare movie that has come up with the social issue and confronted the horror of castism.
Ayushmann is a young cop who leads an investigative team for the case of rape and murder.
Ayan is a well-educated Brahmin young man who has the ability and courage to stand for the
normal people, like us. He is also caste blind. There is one sequence in the movie which
defines castism isn't it all, there are hierarchies even with the caste too and he explored at the absurdity of it. There are sequences when his fellow policeman pleads him to not to disturb the balance of the society.
Anubhav Sinha doesn't want to keep calm rather he wants to shatter the belief that caste still matters to many even in the era of the 21st century. Anubhav Sinha posses a real talent for staging drama and so the narrative is also gripping and keeps you glued. The writers Gaurav Solanki and Anubhav Sinha have brought their courage together of structuring the social cause as a police procedure.
Article 15 is a movie which shows us the real brutality that lies behind the cast. This movie makes you realize that the dark truth of castism lies not in the rural or backward areas of India, rather this belief lies beneath us. Watch this movie not create fuss but to bring a change in the country as responsible citizens.
Article 15 Movie Trailer
The teaser of the movie Article 15 is OUT and is surely throwing some very strong message which needs to be delivered. Gear up to watch the official trailer of Article 15 right away.
Article 15 Movie Songs
The songs of the Article 15 movie are composed by Anurag Saikia, Devin Parker, Piyush Shankar and Gingger. The lyrics are penned by Shakeel Azmi, Rashmi Virag, Slow Cheeta, Kaam Bhaari, Dee MC and Spit Fire. The song "Intezari" is quite a soulful track which will take to back to the times when original composition were more popular than the remix versions.
| # | TITLE | ARTIST | DURATION | PLAY |
| --- | --- | --- | --- | --- |
| 1. | Naina Yeh | Yasser Desai, Akanksha Sharma | 5:29 | |
| 2. | Intezari | Armaan Malik | 5:08 | |
| 3. | Intezari (Unplugged) | Ayushmann Khurrana | 4:46 | |
| 4. | Intezari (Asees Version) | Asees Kaur | 4:35 | |
| 5. | Kahab Toh | Sayani Gupta | 3:12 | |
| 6. | Shuru Karein Kya | Slow Cheeta, Dee MC, Kaam Bhaari, Spit Fire | 3:45 | |

Viveka is known to her friends as a movie junkie who is also a creative fashion enthusiast in red lipstick. She's passionate about writing! Be it fashion, beauty or movies she is pro. In her free time, she loves to play badminton, cook and binge watch movies. She's also a great observer who has a quirky take on various things, well only close ones know this. Nothing stops her from personifying the creative game.
Related Hindi Movies