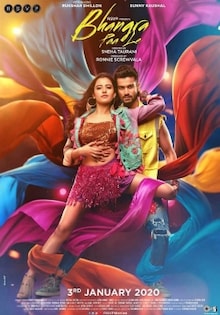 Watch On Netflix
Bhangra Paa Le
Hindi
Updated: Jul 28, 2021
User Rating
3.6 ★
(Rating: 3.6/5 - 8 votes)
Bhangra Paa Le: Release Date, Trailer, Songs, Cast
| | |
| --- | --- |
| Release Date | 3rd Jan 2020 |
| Language | Hindi |
| Genre | Comedy, Drama |
| Duration | 2 hrs 10 mins |
| Cast | Sunny Kaushal, Rukshar Dhillon |
| Director | Sneha Taurani |
| Producer | Ronnie Screwvala |
| Music Director | JAM8, Rishi Rich, Score: Ketan Sodha |
| Certificate | U/A |
| Cinematography | Jitan Harmeet Singh |
| Production | RSVP Movies |
| Your Rating: | |
About Bhangra Paa Le Movie
Bhangra Paa Le is a 2020 new Bollywood movie and is also the first Bollywood movie which is opening the year 2020. Sunny Kaushal and Rukshar Dhillon is the lead pair of the movie. With this movie, Sneha Taurani is making her Bollywood directorial debut. The plot of the movie Bhangra Paa Le is based on Bhangra, which is Punjabi folk dance form and this movie helps in creating a bridge between the Punjabi folk dance and the western dance forms. Bhangra Paa Le release date is 3rd January 2020. In the below story, you can find everything about the movie like Bhangra Paa Le trailer, review, cast and many more. Take a look at the other popular Bollywood movies Chhapaak and Tanhaji as it would be interesting to see how 2020 performs in terms of Bollywood movies.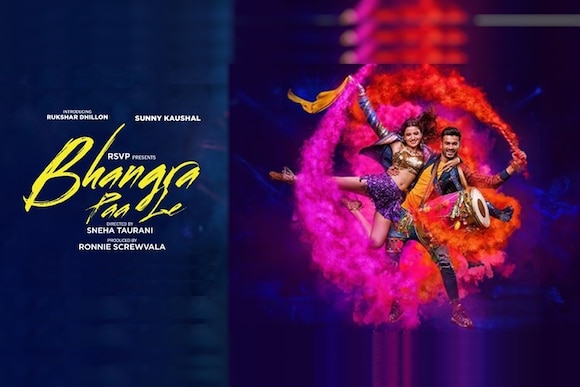 Bhangra Paa Le Movie Ticket Offers, Online Booking, Ticket Price, Reviews and Ratings
Bhangra Paa Le Movie Review
Jaggi Singh (Sunny Kaushal) and Simi Kohli (Rukshar Dhillon) are both college-going students who also excel in Bhangra and both of them want to win the inter-college championship and reach Bhangra battle in London. On the other hand, in the 1940s, Captaan (Jaggi's grandfather, also played by Sunny Kaushal) is a soldier from pre-independence Punjab who falls in love with Nimmo (Shriya Pilgaonkar) and wins her family's heart with his talent of Bhangra. Both the stories go back and forth in time seamlessly but the weak script of the movie is so unpredictable that it does not leave any impact. The chemistry between the pairs will win you over but the characters are shown dancing more than talking or acting, for that matter.
Bhangra Paa Le is a traditional folk dance movie with an urban story but there isn't anything meaningful that it offers to the audience.
Watch Bhangra Paa Le Full Movie Online in HD
See Sunny Kaushal and Rukshar Dhillon create a bridge between Punjabi folk dance and the western dance forms in the movie Bhangra Paa Le. So if you love to watch musical movies then head on to watch Bhangra Paa Le full movie in HD online.
Bhangra Paa Le Movie Trailer
Bhangra Paa Le trailer is quite intriguing and lots of dance. Watch the Bhangra Paa Le official trailer below.
Bhangra Paa Le Movie Songs
Bhangra Paa Le songs are composed by Shubham Shirule, Aakashdeep Sengupta, Keeran, Kaushik - Aakash - Guddu (KAG), Nilotpal Munshi, Kiranee for JAM8, Ana Rehman, Yash Narvekar, Rishi Rich and A Bazz. The lyrics are penned by Shloke Lal, Shubham Shirule for JAM8, Kiranee, Siddhant Kaushal, Mandy Gill, Manisha, Raftaar, Yash Narvekar and A Bazz. The title song "Bhangra Paa Le" is a remake of the song "Bhangra Paale" from Karan Arjun movie.
| # | TITLE | ARTIST | DURATION |
| --- | --- | --- | --- |
| 1. | Bhangra Paa Le | Mandy Gill | 3:00 |
| 2. | Kala Joda | Romy, Shalmali Kholgade, Manisha Rap: Raftaar | 3:07 |
| 3. | Ho Ja Rangeela Re | Shashwat Singh | 3:09 |
| 4. | Jhoomar Dhaaga | Mandy Gill | 4:00 |
| 5. | Re Sardar | Mandy Gill | 3:18 |
| 6. | Peg Sheg | Jonita Gandhi, Akasa, Shashwat Singh, A Bazz | 2:51 |
| 7. | Sun Sajna | Navraj Hans, Jonita Gandhi, Yash Narvekar, Kiranee | 2:48 |
| 8. | Angana | Shreya Ghoshal, Javed Ali | 5:26 |
| 9. | Raanjhan | Neeti Mohan, Tushar Joshi | 3:46 |
| 10. | Sacchiyaan | Amit Mishra, Harshdeep Kaur | 3:21 |
| 11. | Ajj Mera Yaar | Amit Mishra | 3:57 |

Viveka is known to her friends as a movie junkie who is also a creative fashion enthusiast in red lipstick. She's passionate about writing! Be it fashion, beauty or movies she is pro. In her free time, she loves to play badminton, cook and binge watch movies. She's also a great observer who has a quirky take on various things, well only close ones know this. Nothing stops her from personifying the creative game.
Related Hindi Movies