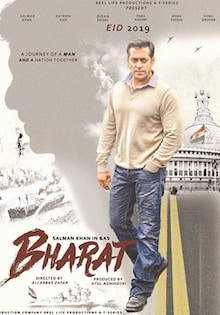 Watch On Amazon Prime
Bharat
Hindi
Updated: Jul 28, 2021
User Rating
3.1 ★
(Rating: 3.1/5 - 89 votes)
Bharat: Release Date, Trailer, Songs, Cast
| | |
| --- | --- |
| Release Date | 5th Jun 2019 |
| Language | Hindi |
| Genre | Drama |
| Duration | 2 hrs 35 mins |
| Cast | Salman Khan, Katrina Kaif, Tabu, Jackie Shroff, Disha Patani, Sunil Grover |
| Director | Ali Abbas Zafar |
| Producer | Atul Agnihotri, Alvira Khan Agnihotri, Bhushan Kumar, Krishan Kumar, Salman Khan |
| Music Director | Vishal–Shekhar |
| Certificate | U/A |
| Cinematography | Marcin Laskawiec |
| Production | Reel Life Productions, Salman Khan Films, T-Series |
| Critics Rating | |
| Your Rating: | |
About Bharat Movie
Based on the South Korean melodrama Ode to My Father (2014), Bharat is a Hindi movie of 2019 that features Salman Khan, Katrina Kaif, Jackie Shroff, Tabu, Disha Patani and Sunil Grover in the lead roles. The casting sounds amazing and we're eagerly waiting to watch the movie has to released in the month of June on the eve of Ramadan Eid 2019. The movie is directed by Ali Abbas Zafar. In this movie, you will see Salman Khan in 5 different avatars from the age of 18 till the age of 70 from the time span of the 1950s to 2010s. Bharat has released on 5th June 2019, and you can head on to read the review below. It would be interesting to watch Salman Khan after Tubelight as this is his first movie release as an actor in the year 2019. On the other hand, Katrina Kaif will be seen in Bharat after "Zero". Head on to watch the Bharat trailer, songs, cast and review below.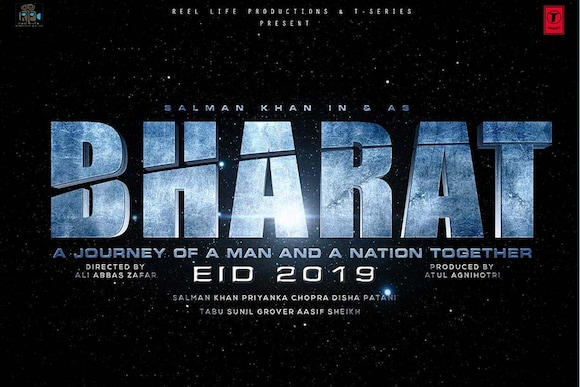 Bharat Movie Ticket Offers, Online Booking, Ticket Price, Reviews and Ratings
Bharat Movie Review
Salman Khan's Bharat will let you see a new avatar of Salman Khan that how he gracefully ages into the feet of the 70-year old man. The movie is throwing a message with clear intentions that Salman is ready to age on the celluloid. The movie is adopeted from the South Korean Blockbuster "Ode To My Father". In Bharat, which you witness the fictional journey of a man along with the historic events where you get to see the historic culture, events, and more through the eyes of one man "Bharat". In the movie, Bharat makes a promise to his father and sent the rest of his life full-filling it. The consistent Heroic persona of Salman Khan gradually eradicates the emotional and genuineness of the story. Staging the sequences ain't enough to woe the audience towards theatres. Despite a good beginning and end of the movie, Bharat does not keep stay glued to the seats, wondering what's going to happen next. The climax is a power-packed emotionally touched drama that will surely shake you. Coming on to the songs well the song "Slow Motion" is nowhere around the era of post-independence India. The lyrics will also amaze you and make you think that was this type of speaking was happening even then. Nowhere the historic events are up with perfection. Despite the phenomenal cast, who were however given short, in fact very short spaces. The only two who manages to shine are Katrina and Sunil Grover. The love track between Katrina and Salman will surely settle you to watch more. Well, you can watch this -One Mans Life Story Unfolding Parallel to The Nation, killer pitch to see how Salman is still trying hard to maintain his heroic aura.
Watch Bharat Full Movie Online in HD on Amazon Prime:
Bharat movie was one of the much-awaited Hindi movies for those who were not able to watch Bharat in the cinema halls. Now those who missed this now can watch Bharat full movie online in HD on Amazon Prime. Gear up to see the journey of Bharat simply by sitting on your couch with a bowl of pop-corns in your arms. Peers watch Bharat full movie online in HD on Amazon Prime.
Bharat Movie Trailer
After the release of Bharat teaser, the much-awaited Bharat official trailer is also out. Salman Khan starer Bharat Movie trailer showcases 5 different avatars of Salman Khan. On the other hand, the new look of Katrina Kaif is giving us vintage vibes. Watch it right away!
Bharat Movie Songs
Bharat's music is composed by Vishal-Shekhar and lyrics are composed by Irshad Kamil. After, the first song of the Bharat Movie "SLOW MOTION" and "Chachni Song" the new song "Aithey Aa" is out. Watch it below.
| # | TITLE | ARTIST | DURATION | PLAY |
| --- | --- | --- | --- | --- |
| 1. | Slow Motion | Nakash Aziz, Shreya Ghoshal | 4:07 | |
| 2. | Chashni | Abhijeet Srivastava | 4:25 | |
| 3. | Aithey Aa | Akasa Singh, Neeti Mohan, Kamaal Khan | 3:39 | |
| 4. | Zinda | Vishal Dadlani | 2:20 | |
| 5. | Turpeya | Sukhwinder Singh | 4:34 | |
| 6. | Aaya Na Tu | Jyoti Nooran | 5:57 | |
| 7. | Thap Thap | Sukhwinder Singh | 2:53 | |
| 8. | Chashni (Reprise) | Neha Bhasin | 3:59 | |
| 9. | Aithey Aa (Dance Version) | Nakash Aziz, Neeti Mohan | 3:38 | |

Viveka is known to her friends as a movie junkie who is also a creative fashion enthusiast in red lipstick. She's passionate about writing! Be it fashion, beauty or movies she is pro. In her free time, she loves to play badminton, cook and binge watch movies. She's also a great observer who has a quirky take on various things, well only close ones know this. Nothing stops her from personifying the creative game.
Related Hindi Movies