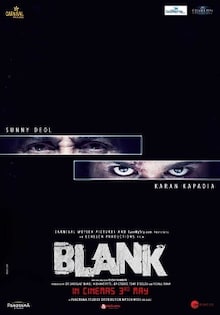 Blank
Hindi
Updated: Jul 30, 2021
User Rating
4.5 ★
(Rating: 4.5/5 - 1 vote)
Blank: Release Date, Trailer, Songs, Cast and More
Release Date

3rd May 2019

Language

Hindi

Genre

Action, Thriller

Duration

2 hrs

Cast
Karan Kapadia, Sunny Deol, Ishita Dutta, Akshay Kumar (Cameo)
Director

Behzad Khambata

Producer

Dr. Shrikant Bhasi, Nishant Pitti, Tony D'Souza, Vishal Rana, &pictures

Certificate

U/A

Cinematography

R. Dee

Production

Echelon Productions

Budget

Rs.

12 crore
Critics Rating
Your Rating:
About Blank Movie
Introducing Karan Kapadia son of Simple Kapadia in this intense Blank movie, marking it his debut Bollywood movie. Blank movie is directed by the newcomer Behzad Khambata who will be making his directorial debut in the Bollywood with this movie. The film also stars Sunny Deol and Ishita Dutta (Drishyam and Firangi) in the lead roles. Well, rumours are there that Karan's brother-in-law, Akshay Kumar has been roped in for a cameo song in the movie. The movie can be watched in the nearby cinema halls, May 3rd 2019 onwards. The trailer of the Blank movie depicts that this is a high-octane thriller flick and is already gaining a lot of attention for the new face and plot of the story.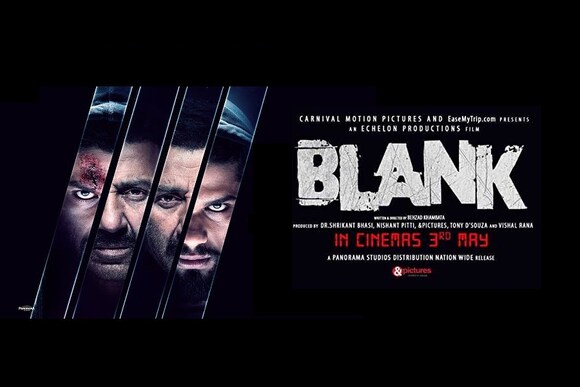 Blank Movie Ticket Offers, Online Booking, Ticket Price, Reviews and Ratings
Blank Movie Review
In the Blank Movie, Sunny Deol play as ATS Officer SS Dewan looks intense which makes him perfect for the furious roles. The plot of the movie revolves around a suicide bomber, Hanif has a bomb attached to his heart. He has short-term memory loss as can't remember his mission (reminds of Ghajini, right?) for which the suicide bomb was stitched to his body. The bomb is literally stitched to the Hanif's body and can't be taken off and it is connected to the heartbeat. In no way, you can get rid of the bomb because if he dies then it will explode and if anyone tries to remove the bomb even then it will explode. The movie is not much about logic rather the director is here to narrate a tough tale. Sunny Deol play as ATS Officer SS Dewan brings in the action drama and looks quite convincing and so is the Karan Kapadia as Hanif. Karan Kapadia's straight face looks and intense furious action makes us believe in the story of the movie Blank. The presence of Ishita Dutta goes unnoticed, which is again a disappointment. However, the plot is clumsy and the direction is also not fallen at place which makes Blank movie just a one time watch.
Blank Movie Trailer
Blank teaser is intense and extremely bold. This teaser prepares you for the Blank trailer has released on 4th April 2019. Watch the Blank official trailer below.
Blank Movie Songs
After "Warning Nahi Dunga" Song, "Ali Ali" song starring Akshay Kumar is OUT. Watch the song below.
| # | TITLE | ARTIST | DURATION | PLAY |
| --- | --- | --- | --- | --- |
| 1. | Warning Nahi Dunga | Amit Mishra, Enbee | 2:26 | |
| 2. | Ali Ali | B Praak, Arko Pravo Mukherjee | 3:52 | |
| 3. | Ali Ali (Navraj Hans' Version) | Navraj Hans | 3:56 | |
| 4. | Himmat Karja | Romy | 2:15 | |
| 5. | Tujhme Hai Aag Baki | Romy | 3:14 | |

Viveka is known to her friends as a movie junkie who is also a creative fashion enthusiast in red lipstick. She's passionate about writing! Be it fashion, beauty or movies she is pro. In her free time, she loves to play badminton, cook and binge watch movies. She's also a great observer who has a quirky take on various things, well only close ones know this. Nothing stops her from personifying the creative game.
Related Hindi Movies