Chhichhore Movie Ticket Offers, Booking, Price: Book Movie Ticket Online on BookMyShow, Paytm
By: Viveka Nagar, Updated: Oct 30, 2019
Chhichhore Movie Ticket Offers, Online Booking, Ticket Price, Reviews and Ratings
Chhichhore is a 2019 new Hindi movie which is comedy-drama flick that stars Sushant Singh Rajput, Shraddha Kapoor, Varun Sharma, Prateik Babbar, Tahir Raj Bhasin, Naveen Polishetty, Tushar Pandey and Saharsh Shukla. The poster of the movie seems quirky and tempting us to watch the movie. Meanwhile, we're already waiting for the official trailer of the Chhichhore release date is 6th September 2019. The poster of this new Hindi movie, Chhichhore gives us a hint that the story is about true friends. The story of the movie revolves around these friends who were together during college days and then finally reunion on a tragic event. In the below story find Chhichhore trailer, songs, release date, cast and more. Chhichhore is directed the Nitesh Tiwari who has also directed Aamir Khan starer Dangal. Chhichhore movie ticket advanced booking offers are now live which means now you can make Chhichhore movie tickets pre-booking offers without giving any second thought. In the below story along with Chhichhore movie ticket offers, we also bring you amazing Chhichhore movie ticket price estimates so that you make the best decision while booking online movie tickets. Other than Chhichhore, you can also book for Saaho movie tickets without any hassle.
Chhichhore Movie Release Date, Trailer and Cast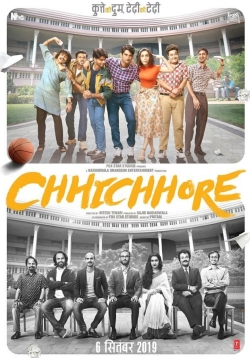 Release Date:

6th September 2019

Language

Hindi

Genre

Drama, Comedy

Duration

2 hrs 26 mins

Cast:

Sushant Singh Rajput, Shraddha Kapoor, Varun Sharma, Prateik Babbar, Tahir Raj Bhasin, Naveen Polishetty, Tushar Pandey, Saharsh Shukla, Nalneesh Neel

Director:

Nitesh Tiwari

Producer:

Kavan Ahalpara, Sajid Nadiadwala, Ajay Rai, Ankur B. Saraiya

Music Director:

Pritam

Certificate:

U/A

Cinematography:

Amalendu Chaudhary

Production:

Nadiadwala Grandson Entertainment, Fox Star Studios

Critics Rating:
Users Rating:

3.8 ★

(Rating: 3.8/5 - 27 votes)

Your Rating:

Rate this Movie

Tell others what you think
Chhichhore Movie Review
Chhichhore is a "cocktail of nostalgia". Set in the era of 90's, Chhichhore where you come across raggings, friendship, forgettable lectures, college pranks, canteen romances, unusual pass times and whatnot. All those who've been in colleges during the 90's have many things to say when it comes to today's college journey. The friends come together when they come to know that one of them is facing crises. The movies flows back and forth showing the present crises and college days. The screenplay is written with utmost perfection which is also predictable by Nitesh Tiwari, Piyush Gupta and Nikhil Malhotra. The music by Pritam keeps you glued to the storyline.
The characters that you'll witness on the celluloid, will definitely remind you of your college journey and those unforgettable friendships. Be it Varun Sharma as Sexa, Naveen Polishetty as Acid, Tahir Raj Bhasin as Derek, Tushar Pandey as Mummy Saharsh Kumar Shukla as Bevda, Sushant Singh Rajput as Annirudh and Shraddha Kapoor as Maya, all have nailed it with their prolific performances. The older version of the characters is unbelievably true to the plot. The prosthetics are bang-on. One-liners make sure you don't face a dull moment.
Watch Chhichhore to enjoy a nostalgic satisfying journey which will remind you of your college days as it is high on friendship and emotions. After watching Chhichhore, you will want to have your college buddies reunion right away.
Chhichhore Movie Songs
The music for the Chhichhore movie is given by Pritam. Songs are still awaited as we believe this shall bring us to major our college memories back fresh and live.
| # | TITLE | ARTIST | DURATION | PLAY |
| --- | --- | --- | --- | --- |
| 1. | Fikar Not | Nakash Aziz, Dev Negi, Antara Mitra, Amit Mishra, Sreerama Chandra & Amitabh Bhattacharya | 3:09 | |
| 2. | Woh Din | Tushar Joshi | 2:33 | |
| 3. | Woh Din (Version 2) | Arijit Singh | 4:18 | |
| 4. | Khairiyat (Sad) | Arijit Singh | 4:40 | |
| 5. | Khairiyat (Happy) | Arijit Singh | 4:30 | |
| 6. | Control | Nakash Aziz, Manish J. Tipu, Geet Sagar, Sreerama Chandra, Amitabh Bhattacharya | 3:36 | |
| 7. | Kal Ki Hi Baat Hai | KK | 4:00 | |
Chhichhore Movie Trailer
Chhichhore trailer dropped on the occasion of Friendship Day. The trailer gives us a glimpse of the life of the lead stars and their bunch of friends when they used to be young. The trailer hints on an unusual reunion of these friends. Watch the unusual trailer below.