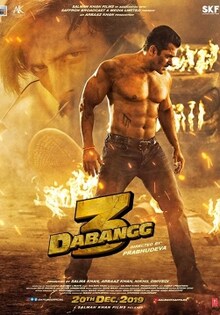 Watch On Amazon Prime
Dabangg 3
Hindi, Telugu, Tamil, Kannada
Updated: Jul 30, 2021
User Rating
3.1 ★
(Rating: 3.1/5 - 86 votes)
Dabangg 3: Release Date, Trailer, Songs, Cast
| | |
| --- | --- |
| Release Date | 20th Dec 2019 |
| Language | Hindi, Telugu, Tamil, Kannada |
| Genre | Action, Thriller, Romance |
| Duration | 2 hrs 30 mins |
| Cast | Salman Khan, Sonakshi Sinha, Sudeep, Mahie Gill, Arbaaz Khan, Nikitin Dheer |
| Director | Prabhu Deva |
| Producer | Salman Khan, Arbaaz Khan, Nikhil Dwivedi |
| Music Director | Himesh Reshammiya, Sandeep Shirodkar |
| Certificate | U/A |
| Cinematography | Mahesh Limaye |
| Production | Salman Khan Films, Arbaaz Khan Productions |
| Your Rating: | |
About Dabangg 3 Movie
Dabangg 3 is the upcoming Hindi movie which shall be a complete Bollywood package. The movie shall comprise of action, thrill and romance. This upcoming Salman Khan movie is directed by Prabhu Deva. Dabangg 3 is the third installment of Dabangg series that features Salman Khan, Sonakshi Sinha, Arbaaz Khan and Mahi Gill in the lead roles. The movie also features Nikitin Dheer and Girish Taurani in the supporting roles. A special song will the featuring Mouni Roy into the movie. Mouni was recently seen in Romeo Akbar and Walter movie and Made in China and her upcoming movies are Brahmastra. Sonakshi Sinha was last seen in Kalank. Dabangg 3 release date is 20th December 2019. Dabangg 3 teaser and trailer took millions of views and now its time for Dabangg 3 movie to hit the theatres. In the below story you can find Dabangg 3 trailer, cast, songs, release date and more along with amazing Dabangg 3 movie ticket offers. Keep an eye on the Dabangg 3 movie tickets bookings so that you can wisely head on to Dabangg 3 movie ticket pre-booking to enjoy first-day first-show of Dabangg 3. So, guys make sure you don't miss out on any of the Dabangg 3 tickets online booking offers to book Dabangg 3 movie tickets with utmost ease. Below we've also provided you with the Dabang 3 tickets price estimation so that you can opt for the best and head-on with Dabangg 3 ticket bookings without any hassle. Good Newwz is releasing the other week, it would be interesting to see how Dabangg 3 performance goes.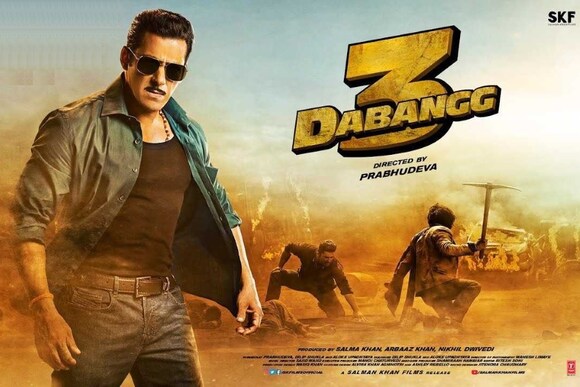 Dabangg 3 Movie Ticket Offers, Online Booking, Ticket Price, Reviews and Ratings
Dabangg 3 Movie Review
The third installment of the 'Dabanng' franchise, Dabangg 3 is a combination of good action, catchy songs and entertaining drama with Salman Khan being the center of the film yet again.
The life of Chulbul Pandey (Salman Khan) revolves around his wife Rajjo (Sonakshi Sinha), his younger brother Makkhi (Arbaaz Khan) and fighting with the local goons. One day when Chulbul bursts a prostitution racket and saves a group of girls, he angers the rich and powerful leader of the racket Balli (Sudeep Sanjeev). He is the villain from Chulbul's past who not only disrupts his life in the past but leaves no stone unturned in making his life miserable in the present. A major part of the first half of the film shows the younger days of Chulbul Pandey, who was named as Dhaakad, his love interest in Khushi (Saiee Manjrekar) and what made him become Robinhood Pandey aka Chulbul Pandey. Trying really hard to congest comedy in the film and failing at it, the story of Dabangg 3 is very predictable with some of the action scenes stretched unnecessarily.
Basically Dabangg 3 is a prequel that shows the journey of how Dhaakad becomes a cop Chulbul Pandey and fights with the villains of the past. Overall, the film tried really hard but fails at catching the attention of the audience.
Watch Dabangg 3 Full Movie Online in HD:
If you were not able to watch Salam Khan's Dabangg 3 in your nearest cinema hall, then you can definitely shed the regret and watch Dabangg 3 full movie online in HD. Lye down on your recliner with glass full of cold drink and holding a bowl and enjoy this action-comedy flick at your own space.
Dabangg 3 Movie Trailer
Supersonic action, romance, dance and humor, these are all available in Dabangg 3 trailer. Take a look at the Dabangg 3 trailer below as the wait is over.
Dabangg 3 Movie Songs
Dabangg 3 music is composed by Sajid-Wajid. The lyrics are written by Danish Sabri, Sameer Anjaan, Sajid Khan, Jalees Sherwani and Irrfan Kamal. The makers teased all the Salam fans with the audio releases to create curiosity. They're now releasing the song videos one after the other.
| # | TITLE | ARTIST | DURATION | PLAY |
| --- | --- | --- | --- | --- |
| 1. | Hud Hud | Divya Kumar, Shabab Sabri, Sajid Khan | 4:24 | |
| 2. | Naina Lade | Javed Ali | 4:49 | |
| 3. | Yu Karke | Salman Khan, Payal Dev | 3:45 | |
| 4. | Munna Badnaam Hua | Badshah, Kamaal Khan, Mamta Sharma | 4:06 | |
| 5. | Habibi Ke Nain | Shreya Ghoshal, Jubin Nautiyal | 5:51 | |

Viveka is known to her friends as a movie junkie who is also a creative fashion enthusiast in red lipstick. She's passionate about writing! Be it fashion, beauty or movies she is pro. In her free time, she loves to play badminton, cook and binge watch movies. She's also a great observer who has a quirky take on various things, well only close ones know this. Nothing stops her from personifying the creative game.
Related Hindi Movies