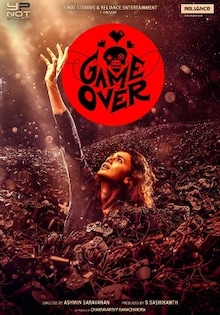 Game Over
Tamil, Hindi, Telgu
Updated: Jul 28, 2021
User Rating
2.3 ★
(Rating: 2.3/5 - 2 votes)
Game Over: Release Date, Trailer, Songs, Cast and More
| | |
| --- | --- |
| Release Date | 14th Jun 2019 |
| Language | Tamil, Hindi, Telgu |
| Genre | Drama, Thriller |
| Duration | 1 hrs 43 mins |
| Cast | Taapsee Pannu |
| Director | Ashwin Saravanan |
| Producer | S. Sashikanth, Chakravarthy Ramachandra |
| Music Director | Ron Ethan Yohann |
| Certificate | U/A |
| Cinematography | A. Vasanth |
| Production | Y NOT Studios, Reliance Entertainment |
| Critics Rating | |
| Your Rating: | |
About Game Over Movie
Game Over is an upcoming Indian-Tamil-Telugu bilingual drama thriller flick that features Taapsee Pannu in the lead after long 3-years. The movie is directed by Ashwin Saravanan. In the trailer of the movie, you will witness Taapsee Pannu sitting and struggling on wheelchair, trying to defend her home from a mysterious entity. There are some moments in the trailer which will get into your nerves and give you shattering non-stop horror sweat which you can't even react to. The movie marks the return of actress Taapsee back into the Kollywood after three years approximately. Below, in the story take a look at the Game Over movie ticket booking offers, trailer, cast and review more.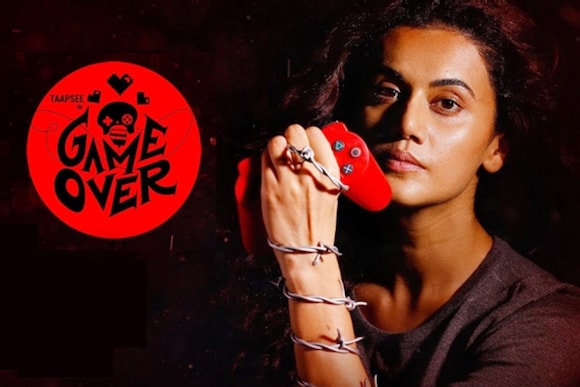 Game Over Movie Ticket Offers, Online Booking, Ticket Price, Reviews and Ratings
Game Over Movie Review
Game Over is a masterpiece thriller movie which at times falls silly at times, but quite required for all the Indian movie lovers. The movie starts with a brutal murder where a girl is harmed terrifically beheaded and burnt and killed. Taapsee Pannu as Sapna is a video game developer who is suffering from an anxiety issue where she feels claustrophobic in the darkness. She also has a tattoo which also connects the movie is the most obvious ways. Ashwin Saravanan and Kaavya Ramkumar brought in the new terms like anniversary reactions and memorial tattoos, which adds perfectly to the storyline so as to form connecting layers to the story of the movie. These are surely going to fascinate you while you watch the movie. All you need to do is stay attentive and glued to the story. Sapna faced a traumatic accident which she could barely forget which also made her famous by the name if tattoo girl. Things start to get severe and that when Sapna tries to kill herself, which becomes the turning point of the story. Now onwards you'll see Sapna on a wheelchair where she constantly tries to wrack he wrist every now and then and fails everytime. That's when the tattoo truth unfolds and Sapna gains a positive attitude towards the life where she doesn't want to accept the fact that she's a victim anymore. Now on the trail of thrill and suspense begins. Let us tell you that, some of the moments shall surely bring your soul into your mouth because of the horror. Not a single moment in the movie where Taapsee Pannu fails to impress us. She has proven her excellence starting from Pink, Manmarziyaan, Badla and now in the Game Over. She is one actress who can pull off a movie on her shoulder by delivering the terrific spontaneous performance. This is a must-watch movie.
Game Over Movie Trailer
Game Over trailer is gaining limelight since its release on 30th May 2019. Take a look at the Game Over trailer and see how this intense trailer makes you sweat and bite your nails while you watch it. Don't believe us, then scroll down to watch Game Over now. The Game Over official Hindi trailer was launched by Taapsee Pannu, the Tamil Game Over trailer was launched by Dhanush and the Telugu Game Over trailer was launched by Rana Daggubati.

Viveka is known to her friends as a movie junkie who is also a creative fashion enthusiast in red lipstick. She's passionate about writing! Be it fashion, beauty or movies she is pro. In her free time, she loves to play badminton, cook and binge watch movies. She's also a great observer who has a quirky take on various things, well only close ones know this. Nothing stops her from personifying the creative game.
Related Hindi Movies