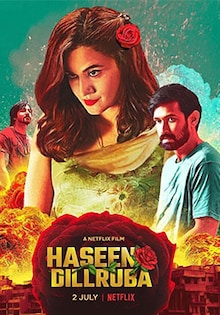 Watch On Netflix
Haseen Dillruba
Hindi
Updated: Jul 30, 2021
User Rating
4 ★
(Rating: 4/5 - 2 votes)
Haseen Dillruba: Release Date, Trailer, Songs, Cast
| | |
| --- | --- |
| Release Date | 2nd Jul 2021 |
| Language | Hindi |
| Genre | Mystery, Thriller |
| Duration | 2 hrs 16 mins |
| Cast | Taapsee Pannu, Vikrant Massey, Harshvardhan Rane |
| Director | Vinil Mathew |
| Producer | Aanand L. Rai, Himanshu Sharma, Bhushan Kumar, Krishan Kumar |
| Music Director | Amit Trivedi |
| Cinematography | Jaya Krishna Gummadi |
| Production | Colour Yellow Productions, T-Series |
| Your Rating: | |
About Haseen Dillruba Movie
Haseen Dillruba is an upcoming movie 2021 that is directed by Vinil Mathew and stars Taapsee Pannu, Vikrant Massey and Harshvardhan Rane in the lead roles. In this mystery thriller flick, Taapse brings in the Gone Girl vibe who plays the role of Rani a beautiful and mysterious woman who is fond of reading Hindi thriller novels. Vikrant Massey plays the role of her husband while Harshvardhan Rane can be seen as a man who is involved in an extramarital affair with Rani, Taapsee Pannu.
With the release of Haseen Dillruba official trailer, we can totally understand that why Taapsee Pannu has risen to popularity in a short span of time. Her diversified performance leaves the audiences stumbled and astonished as she one of those finest actors who is known to pick on unique scripts. This Hindi web movie is slated to premiere on Netflix on July 2 wait no more to subscribe to Netflix.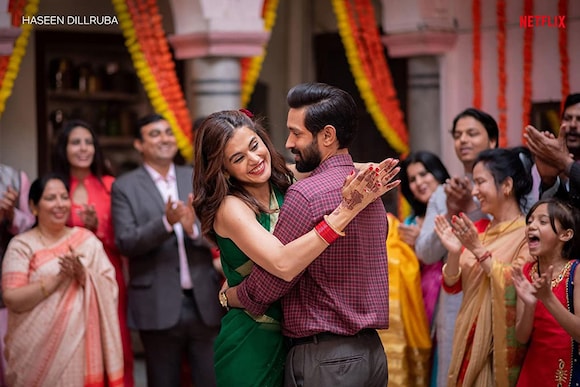 Haseen Dillruba Movie Ticket Offers, Online Booking, Ticket Price, Reviews and Ratings
Haseen Dillruba Movie Review
Haseen Dillruba, now streaming on Netflix from 2nd July 2021, is about a young woman named Rani, who is obsessed with novels related to the crime thriller genre. She is married to a young man named Rishu but things take a turn in her life when Rishu's cousin, Neel, comes and stays with them for few days and when Rishu dies in a blast inside their house. Writer Kanika Dhillon has done a great job in writing the characters and director Vinil Mathew has done justice in showing us the worlds of Rishu, Rani and Neel though the story does look a little unbelievable. Taapsee Pannu, Vikrant Massey and Harshvardhan Rane have done an amazing job in portraying their characters and making them look realistic.
Overall, Haseen Dillruba is a dark love story that has a thrilling twist to it, with a hint of comic scenes here and there, which makes the film an interesting watch.
Haseen Dillruba Movie Trailer
In the official trailer of Haseen Dillruba Pannu plays the role of a beautiful lady who loves reading thriller novels and Vikrant Massey plays the role of Rishu who gets married to Pannu after love at first. In the Haseen Dillruba trailer you will see Rishu trying hard to impress Rani. Rani is also seen getting involved in an extramarital affair with Neel who is Harshvardhan Rane. The story takes a steep when Rishu dies in an explosion, Rani becomes a murder suspect. Later in the trailer, you will also see Rishu getting back to Rani in order to take revenge by faking his appearance and this avatar of Vikrant makes it worthy and watchable. Stunner mystery lines from Pannu makes us want more of the movie. Taapsee Pannu and Vikrant Massey are impeccable performers and with their jaw-dropping performances, they're surely making us curious to subscribe to Netflix so that we don't miss on to watch Haseen Dillruba online on Netflix. Wait no more and watch the Haseen Dillruba official trailer below.
Haseen Dillruba Movie Songs
The music of the film Haseen Dillruba is composed by Amit Trivedi and the lyrics are penned by Varun Grover. Take a look at all the songs of Haseen Dillruba movie below.
| # | TITLE | ARTIST | DURATION | PLAY |
| --- | --- | --- | --- | --- |
| 1. | Dil Melt Karda | Navraj Hans, Nikhita Gandhi | 3:21 | |
| 2. | Phisal Jaa Tu | Abhijeet Srivastava | 4:01 | |
| 3. | Milaa Yun | Yashita Sharma, Abhay Jodhpurkar | 3:41 | |
| 4. | Lakeeran | Asees Kaur, Devenderpal Singh | 3:32 | |

Viveka is known to her friends as a movie junkie who is also a creative fashion enthusiast in red lipstick. She's passionate about writing! Be it fashion, beauty or movies she is pro. In her free time, she loves to play badminton, cook and binge watch movies. She's also a great observer who has a quirky take on various things, well only close ones know this. Nothing stops her from personifying the creative game.
Related Hindi Movies