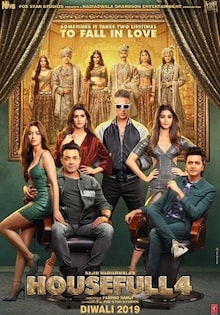 Housefull 4
Hindi
Updated: Jul 28, 2021
User Rating
3.1 ★
(Rating: 3.1/5 - 360 votes)
Housefull 4: Release Date, Trailer, Songs, Cast and More
| | |
| --- | --- |
| Release Date | 25th Oct 2019 |
| Language | Hindi |
| Genre | Comedy, Drama |
| Duration | 2 hrs 26 mins |
| Cast | Akshay Kumar, Kriti Sanon, Riteish Deshmukh, Kriti Kharbanda, Bobby Deol, Pooja Hegde, Rana Daggubati |
| Director | Farhad Samji |
| Producer | Sajid Nadiadwala |
| Music Director | Sohail Sen, Farhad Samji, Sandeep Shirodkar, Panjabi Hit Squad |
| Certificate | U/A |
| Cinematography | Sudeep Chatterjee |
| Production | Nadiadwala Grandson Entertainment |
| Your Rating: | |
About Housefull 4 Movie
We've been missing rib-tickling giggles for a while and Houseful 4 is here to curb our need for loud laughs. Housefull 4 is a latest Bollywood comedy which is apparently the fourth installment of Housefull franchise. You will see Akshay Kumar, Kriti Sanon, Riteish Deshmukh, Kriti Kharbanda, Bobby Deol, Pooja Hegde and Rana Daggubati in the lead roles. The film is directed by Farhad Samji, and produced by Sajid Nadiadwala under the banner of Nadiadwala Grandson Entertainment. Housefull 4 release date is 25th October 2019. In the below story, find the Housefull 4 trailer, songs, release date and more. Also, find amazingly mind-blowing Housefull 4 movie ticket booking offers so that you can book Housefull 4 movie ticket online with the best ticket offers. Housefull 4 movie shares its release date with the other two Bollywood movie which is also releasing on the same date and they are Saandh Ki Aankh and Made in China. Apart from this, Bala movie and Marjaavaan are also in the run to compete with the box office collection of Housefull 4.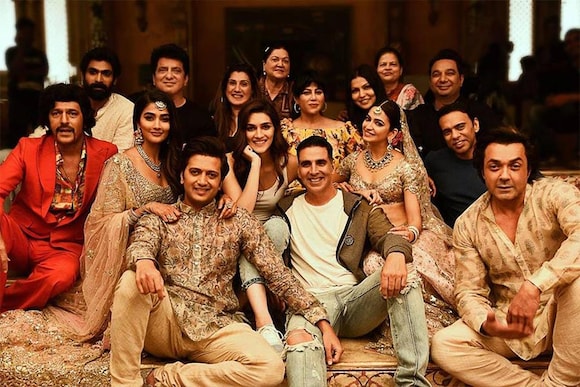 Housefull 4 Movie Ticket Offers, Online Booking, Ticket Price, Reviews and Ratings
Housefull 4 Movie Review
Housefull 4 is the 4th edition of the Housefull franchise. More than a sequel it is a prequel because it takes back 600 years to the 15th century where, in 1419, the love stories of 3 couples are left incomplete due to evil conspiracy and revenge. The movie is going to show you how the destiny of the 3 couples lands them up in Sitamgarh.
In the film, Akshay plays a 15-century warriror king called Rajkumar Bala, Riteish Deshmukh as the role of a dance teacher, Nartaki Bangdu Maharaj, Bobby Deol as the royal bodyguard Dharamputra while the three leading ladies- Kriti Sanon as Princess Madhu, Kriti Kharbanda as Princess Meena and Pooja Hegde as Princess Mala. While in 2019, the names of the characters changes to Harry (Akshay Kumar), Max (Bobby Deol), Roy (Riteish Deshmukh), Kriti (Kriti Sanon), Neha (Kriti Kharbanda) and Pooja (Pooja Hegde). The repay the loan of a gangster, the boys plan on marrying the 3 daughters of a billionaire Thakral (Ranjeet) in Sitamgarh. Upon reaching the destination, Harry recalls everything from their past life and that's where the entire journey of love and confusion begins.
It is not only going to confuse but put you on a laugh riot and take you through a journey of 1419 with the spark of 2019 in it.
Housefull 4 Movie Trailer
Housefull 4 trailer was no less than a laughing-riot. Hope you've not missed this one. In case you've missed it, glide below to watch Housefull 4 official trailer right away.
Housefull 4 Movie Songs
The soundtrack of the Housefull 4 is composed by Sohail Sen, Sandeep Shirodkar, Farhad Samji and Panjabi Hit Squad. The song lyrics are penned by Farhad Samji and Sameer Anjaan. "The Bhoot Song" song is now OUT, watch it below at the end of the story.
| # | TITLE | ARTIST | DURATION | PLAY |
| --- | --- | --- | --- | --- |
| 1. | Ek Chumma | Sohail Sen, Altamash Faridi, Jyotica Tangri | 4:04 | |
| 2. | Shaitan Ka Saala | Vishal Dadlani, Sohail Sen | 2:27 | |
| 3. | The Bhoot Song | Mika Singh, Farhad Samji | 3:58 | |

Viveka is known to her friends as a movie junkie who is also a creative fashion enthusiast in red lipstick. She's passionate about writing! Be it fashion, beauty or movies she is pro. In her free time, she loves to play badminton, cook and binge watch movies. She's also a great observer who has a quirky take on various things, well only close ones know this. Nothing stops her from personifying the creative game.
Related Hindi Movies