How to Train Your Dragon: The Hidden World
English, Hindi, Tamil, Telgu
Updated: Jul 28, 2021
User Rating
3 ★
(Rating: 3/5 - 3 votes)
How to Train Your Dragon: The Hidden World: Release Date, Trailer, Songs, Cast and More
| | |
| --- | --- |
| Release Date | 21st Mar 2019 |
| Language | English, Hindi, Tamil, Telgu |
| Genre | Animation, Action, Adventure |
| Duration | 1 hrs 44 mins |
| Cast | Jay Baruchel, America Ferrera, Cate Blanchett, Craig Ferguson, F. Murray Abraham |
| Director | Dean DeBlois |
| Producer | Bonnie Arnold, Brad Lewis |
| Music Director | John Powell |
| Certificate | U/A |
| Production | DreamWorks Animation |
| Your Rating: | |
About How to Train Your Dragon: The Hidden World Movie
How to train your Dragon is an Epic triology of an unlikely friendship between Hiccup, Toothless and fellow dragons. This movie is a sequel to the movie How to Train Your Dragon 2 of 2014 and it surmounts around rescuing captured dragons and bringing them back to Berk – dragon & human utopia. Toothless build a new connection with a female dragon – Light Fury and they both are seen enchanted by each other in the previous film. The story is about Hiccup discovering the "Hidden World" before the tyrant – Grimmel finds it. It's interesting to see how with Astrid's encouragement. Hiccup gets motivated to set out with the dragon riders to stop Grimmel from destroying the "Hidden World", Does he succeed? Watch the movie to know that!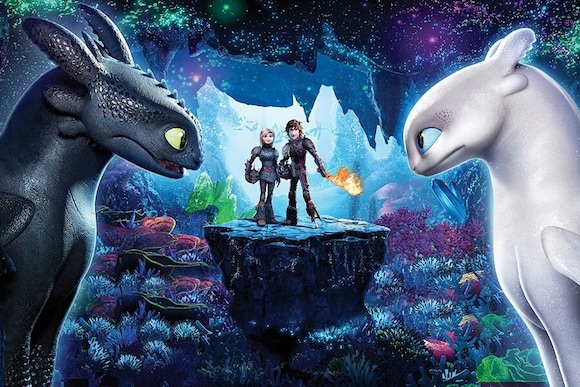 How to Train Your Dragon: The Hidden World Movie Ticket Offers, Online Booking, Ticket Price, Reviews and Ratings
How to Train Your Dragon: The Hidden World Movie Review
How to Train Your Dragon: The Hidden World grossed a total of $515 million worldwide making the movie a great success against a production budget of $129 million. The movie saw one of the highest advance booking totals. This beautifully captured story in striking visuals sends a powerful message of "all good things must come to an end". The movie is enchanting and its storyline keeps us completely engrossed. The emotional aspects have also been touched upon and depicted crisply yet deeply. Sometimes in between, you feel the story going shaky but its emotional climax to an adorable friendship seals the loose ends.
How to Train Your Dragon: The Hidden World Movie Trailer

Viveka is known to her friends as a movie junkie who is also a creative fashion enthusiast in red lipstick. She's passionate about writing! Be it fashion, beauty or movies she is pro. In her free time, she loves to play badminton, cook and binge watch movies. She's also a great observer who has a quirky take on various things, well only close ones know this. Nothing stops her from personifying the creative game.