India's Most Wanted
Hindi
Updated: Jul 28, 2021
User Rating
3.4 ★
(Rating: 3.4/5 - 7 votes)
India's Most Wanted: Release Date, Trailer, Songs, Cast and More
Release Date

24th May 2019

Language

Hindi

Genre

Action, Thriller

Duration

2 hrs 3 mins

Cast
Arjun Kapoor, Amrita Puri, Rajesh Sharma, Prasanth, Shantilal Mukherjee
Director

Raj Kumar Gupta

Producer

Fox Star Studios, Raj Kumar Gupta, Myra Karn

Music Director

Amit Trivedi

Certificate

U/A

Cinematography

Dudley

Production

Fox Star Studios, Raapchik Films

Budget

Rs.

37 crore
Critics Rating
Your Rating:
About India's Most Wanted Movie
India's Most Wanted is an upcoming Bollywood action thriller movie which is written and directed by Raj Kumar Gupta. The movie features starring Arjun Kapoor and Amrita Puri in the lead roles. The film pays tribute to the unsung heroes of our Indian society. The movie is about tracking a terrorist in a secret folded mission which aims to arrest him without firing bullets. The India's Most Wanted teaser have just landed, take a look at the story below to watch the teaser and other major details of the movie without any delay. The movie is scheduled to hit the cinema halls on 24th May 2019. Below in the story find India's Most Wanted trailer, songs and popular movie ticket offers, which means you get to enjoy here as well in the cinema halls.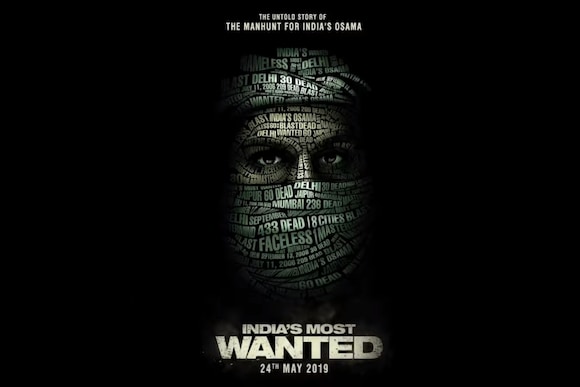 India's Most Wanted Movie Ticket Offers, Online Booking, Ticket Price, Reviews and Ratings
India's Most Wanted Movie Review
There are tons of Bollywood movies which are based on the concept of hunting and groping the terrorists, but what makes India's Most Wanted different from all the other is that the team is on an operation where they ain't supported from the government and neither these agents have weapons to find the "Ghost" who is mainly responsible for creating the disturbance in the peace of the country. No one has the Ghost's address, name and neither a single photo. Arjun Kapoor being an army officer gets a clue of this Ghost from his sources who reside in Kathmandu. He sets up his team and heads to his officer, Rajesh to request him to grant the permission to leave for the mission. Rajesh denies and asks him to carry the "Ghost mission" by his own as you will not any weapons for safety nor any help from the organizations. The journey of the groping the India's Most Wanted is where the actual story begins.
Raj Kumar Gupta who also gave us Raid, No One Killed Jessica India's Most Wanted keeps you glued with all the thriller sequences. Suddenly after a time, all the Bollywood masala gets eradicated and the story turns out to lame and boring over time. In order to maintain the reality of the story as it is based on real events, the pace of the movie breaks every now and then. But when it comes to Arjun Kapoor's performance he has given you the reason that- why you're his fan and should continue to be so. His performance in the movie can prove to be his turning point of the stars are in his favour. You can definitely watch the movie as these types of movies should be promoted more as these are based on the life of unsung hero of the Indian society.
India's Most Wanted Movie Trailer
After the teaser of India's Most Wanted which looks quite fiery and intense. India's Most Wanted official trailer is now OUT.
India's Most Wanted Movie Songs
The soundtrack the movie is composed by Amit Trivedi and the lyrics are written by Amitabh Bhattacharya. Songs like Akela and Vande Mataram are out for you to listen and enjoy. simply click on the red play icon to listen and watch India's Most Wanted songs.
| # | TITLE | ARTIST | DURATION | PLAY |
| --- | --- | --- | --- | --- |
| 1. | Akela | Abhijeet Srivastava | 4:01 | |
| 2. | Vande Mataram | Papon, Altamash Faridi | 3:42 | |

Viveka is known to her friends as a movie junkie who is also a creative fashion enthusiast in red lipstick. She's passionate about writing! Be it fashion, beauty or movies she is pro. In her free time, she loves to play badminton, cook and binge watch movies. She's also a great observer who has a quirky take on various things, well only close ones know this. Nothing stops her from personifying the creative game.
Related Hindi Movies