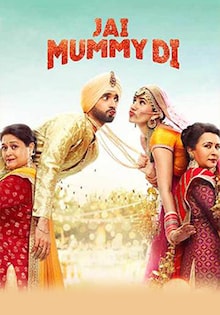 Watch On Netflix
Jai Mummy Di
Hindi
Updated: Jun 17, 2020
User Rating
2.8 ★
(Rating: 2.8/5 - 2 votes)
Jai Mummy Di: Release Date, Trailer, Songs, Cast
| | |
| --- | --- |
| Release Date | 17th Jan 2020 |
| Language | Hindi |
| Genre | Romantic, Comedy |
| Duration | 1 hrs 43 mins |
| Cast | Sunny Singh, Sonnalli Seygall, Supriya Pathak, Poonam Dhillon |
| Director | Navjot Gulati |
| Producer | Bhushan Kumar, Krishan Kumar, Luv Ranjan, Ankur Garg |
| Music Director | Amartya Bobo Rahut, Tanishk Bagchi, Meet Bros, Parag Chhabra, Rishi-Siddhant, Gaurav Chatterji |
| Certificate | U/A |
| Cinematography | Sanket Shah |
| Production | T-Series, Luv Films |
| Your Rating: | |
About Jai Mummy Di Movie
Jai Mummy Di is a romantic comedy that features Sunny Singh, Sonnalli Seygall, Supriya Pathak and Poonam Dhillon in the lead roles. This new Hindi movie 2020 revolves around the conflicting dynamics between the two mother protagonists who used to be best of friends in their early days of friendship. The movie shall take you through some of the incidents where you'll see how this conflict between the two mothers affects them and other members of their family. This Hindi movie, Jai Mummy Di release date is 17th January 2020. After, Punchanama 2 the handsome Sunny Singh Nijjar and stylish Sonnalli Seygall will be seen in this rom-com. In the below story, find more about this latest movie like Jai Mummy Di trailer, songs, cast, release date and much more.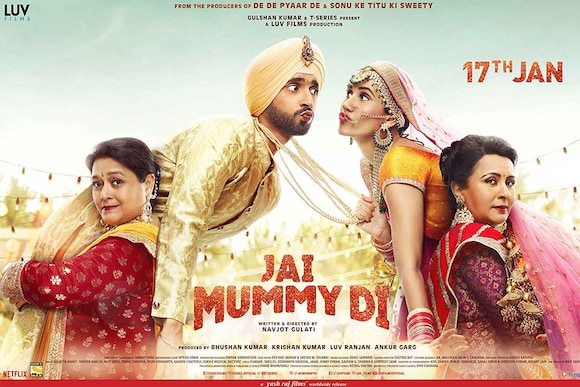 Jai Mummy Di Movie Ticket Offers, Online Booking, Ticket Price, Reviews and Ratings
Jai Mummy Di Movie Review
Jai Mummy Di is a story about 2 rival neighbours Khannas and Bhallas but their children, Puneet (Sunny Singh) and Saanjh (Sonnalli Seygall) who fall in love with, despite their mothers being enemies with each other who were actually best friends in their teens. Afraid of their Laali Khanna (Supriya Pathak Kapur) and Pinky Bhalla (Poonam Dhillon), their families pretend to be enemies. The entire movie only shows how Puneet and Saanjh try to find out what goes wrong between Laali and Pinky in their college days. The leading actors try too hard to make it a fun-ride but fail at it immensely. Sunny Singh delivers a sober performance as Puneet but Sonnalli Seygall fails to fit into the character of Saanjh.
The story is Jai Mummy Di is an interesting plot but the lack of storytelling and certain unfit characters took away the charm of the film.
Watch Jai Mummy Di Full Movie Online in HD
If you've missed watching this unusual romantic comedy flick, then the wait is over as now you can watch Jai Mummy Di full movie online in HD on Netflix. Gather all your junk food like chips, cold drinks and pop-corns to sit and enjoy this movie comfortably on your recliner.
Jai Mummy Di Movie Trailer
Jai Mummy Di trailer will take you on a hilarious ride. In the movie trailer, Sunny Singh and Sonnalli Seygall are seen as each other love interest while Supriya Pathak and Poonam Dhillon are the mothers who are in a terribly complicated relationship which makes it difficult for the two love birds to create their own nest by taking it forward with a marriage. Now that we gave you a glimpse of Jai Mummy Di trailer, take a look at the Jai Mummy Di official trailer below.
Jai Mummy Di Movie Songs
Jai Mummy Di songs are listed below, you can take a look. The Jai Mummy Di - Title Track is release, do take a look.
| # | TITLE | ARTIST | DURATION | PLAY |
| --- | --- | --- | --- | --- |
| 1. | Mummy Nu Pasand | Sunanda Sharma | 3:04 | |
| 2. | Lamborghini | Neha Kakkar, Jassi Gill | 4:06 | |
| 3. | Dariyaganj | Arijit Singh, Dhvani Bhanushali | 3:31 | |
| 4. | Jai Mummy Di - Title Track | Nikhita Gandhi, Parag Chhabra, Vivek Hariharan, Devender Pal Singh | 2:53 | |
| 5. | Ishq Da Band | Shipla Surroch, Mika Singh, Harjot Dhillon | 3:00 | |
| 6. | Manney Ignore Kar Rahi | Amitabh Bhattacharya | 2:46 | |
| 7. | Ajaa Ajaa | Divya Kumar | 2:46 | |
| 8. | Dariyaganj Female Version | Dhvani Bhanushali | 3:31 | |

Viveka is known to her friends as a movie junkie who is also a creative fashion enthusiast in red lipstick. She's passionate about writing! Be it fashion, beauty or movies she is pro. In her free time, she loves to play badminton, cook and binge watch movies. She's also a great observer who has a quirky take on various things, well only close ones know this. Nothing stops her from personifying the creative game.
Related Hindi Movies