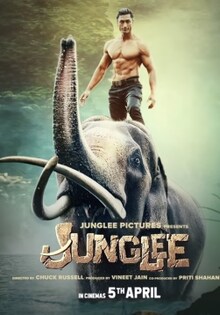 Junglee
Hindi
Updated: Jul 28, 2021
User Rating
3 ★
(Rating: 3/5 - 50 votes)
Junglee: Release Date, Trailer, Songs, Cast and More
| | |
| --- | --- |
| Release Date | 29th Mar 2019 |
| Language | Hindi |
| Genre | Action, Adventure |
| Duration | 1 hrs 55 mins |
| Cast | Vidyut Jammwal, Pooja Sawant, Asha Bhat, Makarand Deshpande, Atul Kulkarni |
| Director | Chuck Russell |
| Producer | Vineet Jain, Priti Shahani |
| Music Director | Sameer Uddin |
| Certificate | U/A |
| Cinematography | Mark Irwin |
| Production | Junglee Pictures |
| Critics Rating | |
| Your Rating: | |
About Junglee Movie
Junglee is an Action Adventure thriller film which stars Vidyut Jammwal, Pooja Sawant and Asha Bhat in the lead roles in the lead role. The movie is directed by Chuck Russell, which makes it one of the most-anticipated Hindi movie. The story of this movie revolves around Vidyut Jammwal - a veterinary doctor, who returns to his father's elephant reserve and witness some filthy encounters and fights with an international poachers racket. Vidyut Jammwal shares a unique bond of friendship between the animal and man. The four elephants that are cast in the movie are scouted from India and Sri Lanka, and where selected out of 100 bunch of elephants. The movie has released worldwide 29th March 2019, meanwhile, you can watch the official trailer of Junglee, below.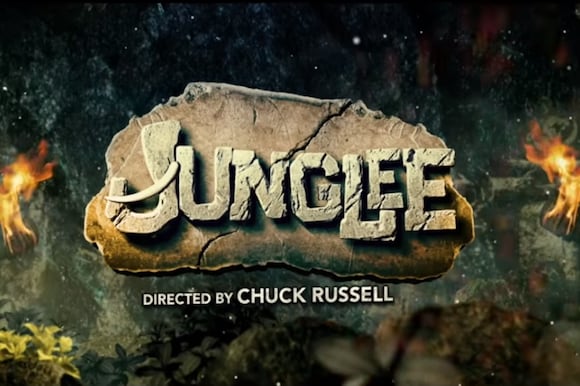 Junglee Movie Ticket Offers, Online Booking, Ticket Price, Reviews and Ratings
Junglee Movie Review
Here come the Junglee movie review where the intention of the movie is to save elephants from hunting to stop ivory export. These 5 giant elephants are huge, sensitive and gorgeous and captured beautifully by the director Chuck Russell. Vidyut Jammwal as Raj, plays the role of Vet the animal whisper who can effortlessly communicate and understand the emotions of the animals be it birds, python, elephant or any other animal, as he grew up in a Junglee between all these animals. He returns back from Mumbai after 10 years in home town, Orissa to look after the elephant sanctuary set by his dad. Atul Kulkarni is a deadly-hunter who is looking for these huge elephants having beautiful tusks fort their ivory. He follows a certain principle in which he fights the animal's backs and kills for the thrill and not for the wealth.
With impressive physic, Russell leaves no stone unturned to showcase his action abilities with the ample amount of sequences. At a certain point, you'll feel how it's possible that Vidyut Jammwal can hit the people with almost anything that's found around. This movie turns into a typical Bollywood action flick which certain forgotten the plot of the movie and the purpose of it. Kicks and punches are so stuffed that at a point you might want to yawn. This makes the movie looks lame and Vidyut centric. The two female leads Pooja Sawant and Asha Bhat despite of the ample screentime does not manage to look like a part of the script and as a result, the which makes the script looks faulty and disconnected. At a certain point, it becomes very heart-breaking to see elephants die when compared to the humans which means you're certainly able to connect with the elephants but remains disconnected when it comes to the characters of the movie. The cast of the Junglee movie is abruptly trying to show their acting skills and end up looking like cartoons. Since nothing looks impressive than the animals, Would like to end the verdict with famous saying:
"No one in the world needs an elephant tusk but an elephant."- By Thomas Schmidt.
Junglee Movie Trailer
Junglee teaser was released on 17th October 2018 and the Junglee official trailer was released on 6th March 2019 which got over 25 million views and 4,60,000 likes. Just before the release of the Junglee movie, a video 'Making of Junglee's Action', was uploaded on YouTube on 26th March 2019.
Junglee Movie Songs
The Junglee movie music is composed by Sameer Uddin. The lyrics are penned by Anvita Dutt and Kumar Suryavanshi.
| # | TITLE | ARTIST | DURATION | PLAY |
| --- | --- | --- | --- | --- |
| 1. | Fakeera Ghar Aaja | Jubin Nautiyal | 3:43 | |
| 2. | Garje Gajraj Hamara | Navraj Hans, Hamsika Iyer, Abhishek Nailwal, Gulshan Kumar | 3:38 | |
| 3. | Dosti | Mohan Kannan | 3:54 | |

Viveka is known to her friends as a movie junkie who is also a creative fashion enthusiast in red lipstick. She's passionate about writing! Be it fashion, beauty or movies she is pro. In her free time, she loves to play badminton, cook and binge watch movies. She's also a great observer who has a quirky take on various things, well only close ones know this. Nothing stops her from personifying the creative game.
Related Hindi Movies