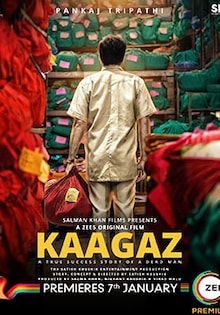 Watch On Zee5
Kaagaz
Hindi
Updated: Feb 17, 2021
User Rating
4.3 ★
(Rating: 4.3/5 - 2 votes)
Kaagaz: Release Date, Trailer, Songs, Cast
| | |
| --- | --- |
| Release Date | 7th Jan 2021 |
| Language | Hindi |
| Genre | Biography, Comedy, Drama |
| Duration | 1 hrs 49 mins |
| Cast | Pankaj Tripathi, Monal Gajjar, Amar Upadhyay, Tina Ahuja, Lankesh Bhardwaj |
| Director | Satish Kaushik |
| Producer | Salma Khan, Nishant Kaushik, Vikas Malu |
| Music Director | Pravesh Mallick, Rahul Jain, ceAzer |
| Production | Salman Khan Films, The Satish Kaushik, Entertainment Production |
| Your Rating: | |
About Kaagaz Movie
Kaagaz is a biographical film that has been directed and written by Satish Kaushik and it has been produced by Salma Khan, Nishant Kaushik and Vikas Malu under the banners of Salman Khan Films and The Satish Kaushik Entertainment Production. It stars Pankaj Tripathi as Bharat Lal Bihari alongside Monal Gajjar and Amar Upadhyay in important characters of the film. After being put on hold due to COVID-19 pandemic, Kaagaz was premiered on Zee5 on 7th January 2021. In the below story take a look at the Kaagaz trailer, songs review and more.
Kaagaz Movie Ticket Offers, Online Booking, Ticket Price, Reviews and Ratings
Kaagaz Movie Review
Kaagaz is based on the life of Bharat Lal Bihar (Pankaj Tripathi), a farmer and a band-owner from a small village of Amilo Mubarakpur, Azamgarh, who was declared dead on Government records by fraudulent means. His uncle and his sons declared him legally dead to snatch his share of the piece of land, about which he discovers when he goes to a nearby local bank in his hometown to get a loan. The narration and the story-telling technique, despite having Salman Khan and Satish Kaushik as narrators, makes it difficult to stay glued to the screen and watch the movie but Pankaj Tripathi, yet again, gives a remarkable performance in the film and makes it bearable. The cinematography is rustic and relevant and the era of 1970s to 1990s has been captured beautifully.
Overall, Kaagaz could have the kind of film one watches to seek inspiration and motivation but it fails to leave a strong impact in the hearts of the audiences.
Kaagaz Movie Trailer
Take a look at the official trailer of Kaagaz movie below.
Kaagaz Movie Songs
The music of the movie was composed by Pravesh Mallick, ceAzer and Rahul Jain, and the lyrics are penned by Aseem Ahmed Abbasee, Kunaal Vermaa, Rashmi Virag and Shweta Raj.
| # | TITLE | ARTIST | DURATION |
| --- | --- | --- | --- |
| 1. | Laalam Laal | Rajnigandha Shekhawat | 4:21 |
| 2. | Bailgadi | Udit Narayan, Alka Yagnik | 4:28 |
| 3. | Jug Jiyo | Rahul Jain | 4:57 |
| 4. | Jug Jug Jiyo (Reprise) | Rahul Jain | 5:14 |
| 5. | Bulaave | Papon | 3:56 |
| 6. | Poetry of Kaagaz | Salman Khan, Rahul Jain | 2:30 |

Viveka is known to her friends as a movie junkie who is also a creative fashion enthusiast in red lipstick. She's passionate about writing! Be it fashion, beauty or movies she is pro. In her free time, she loves to play badminton, cook and binge watch movies. She's also a great observer who has a quirky take on various things, well only close ones know this. Nothing stops her from personifying the creative game.
Related Hindi Movies