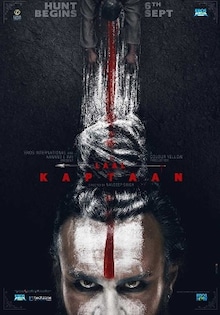 Watch On Amazon Prime
Laal Kaptaan
Hindi
Updated: Jul 28, 2021
User Rating
3.9 ★
(Rating: 3.9/5 - 10 votes)
Laal Kaptaan: Release Date, Trailer, Songs, Cast
| | |
| --- | --- |
| Release Date | 18th Oct 2019 |
| Language | Hindi |
| Genre | Drama |
| Duration | 2 hrs 35 mins |
| Cast | Saif Ali Khan |
| Director | Navdeep Singh |
| Producer | Sunil Lulla, Anand L Rai |
| Music Director | Samira Koppikar |
| Certificate | A |
| Cinematography | Shanker Raman |
| Production | Colour Yellow Productions, Eros International |
| Your Rating: | |
About Laal Kaptaan Movie
Laal Kaptaan is a new Hindi movie drama which stars Saif Ali Khan in the lead. In the movie, Saif Ali Khan will be seen as Naga Baba who has raakh all over his face which apparently makes him look fierce and intense at the same time. Saif looks no less than a demon who is all set to slay this festive season. Laal Kaptaan is directed by Navdeep Singh and was released around the eve of Karwa Chaut 2019, on 18th October 2019. In the below story, find Laal Kaptaan teaser, trailer, release date, songs and more.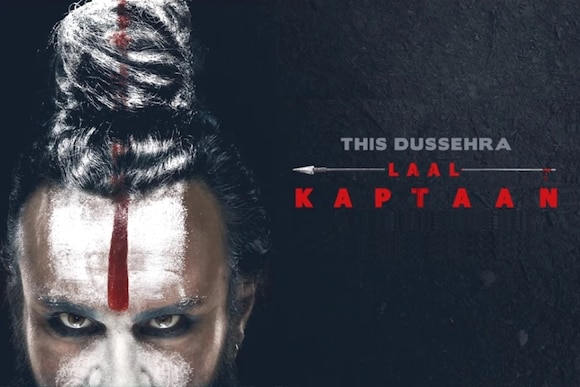 Laal Kaptaan Movie Ticket Offers, Online Booking, Ticket Price, Reviews and Ratings
Laal Kaptaan Movie Review
Laal Kaptaan is based sometime in the 18th Century, after the Battle of Buxar that took place in October 1764, when East India Company was making rapid strides in India, buying allies and bullying foes to establish complete control over the country.
The story of Laal Kaptaan revolves around the revenge of a man named Gosai (Saif Ali Khan), who is a Naga Sadhu and lives in Bundelkhand during the time when the power of Mughals was diminishing and the Pathans, Marathas and British were fighting to get in control of the land. Amidst all the bullying by the British, Gosai kills many people by either jabbing a spear into them or flinging an axe at them. He does this to come face to face with the Lieutenant Rehmat Khan (Manav Vij), who looted gold coins from the royal treasury. Rehmat Khan is on run along with his loyal general Adham (Aamir Bashir), his Begum (Simone Singh), a child and his widowed lover (Zoya Hussain). Deepak Dobriyal plays the character of the tracker in the film and Madan Deodhar as the Maratha Captain, trying hard to add a slight comic relief in the film.
Gosai hopes to avenge a mystery that is revealed in the climax of the film wherein his vendetta peels off gradually, and to know that you need to watch the film.
Watch Laal Kaptaan Full Movie Online in HD
Watch Laal Kaptaan full movie online in HD to see how a bounty hunter wanders in search of a man he has sought for 20 long years. This movie revolves around Bundelkhand city in the late18th century in which Saif plays a strong character. To watch the movie online in HD Click on "Watch on Amazon Prime" button.
Laal Kaptaan Movie Trailer
After heart-drenching Laal Kaptaan teaser which looked fierce and tense, Laal Kaptaan trailer is OUT to terrify you. Watch this Saif Ali Khan starer film, Laal Kaptaan trailers below.
Laal Kaptaan Movie Songs
The songs of the Laal Kaptaan movie is composed by Samira Koppikar. The lyrics of the songs are penned by Puneet Sharma, Saurabh Jain and Sahib.
| # | TITLE | ARTIST | DURATION |
| --- | --- | --- | --- |
| 1. | Kaptaan | Nakash Aziz | 4:02 |

Viveka is known to her friends as a movie junkie who is also a creative fashion enthusiast in red lipstick. She's passionate about writing! Be it fashion, beauty or movies she is pro. In her free time, she loves to play badminton, cook and binge watch movies. She's also a great observer who has a quirky take on various things, well only close ones know this. Nothing stops her from personifying the creative game.
Related Hindi Movies