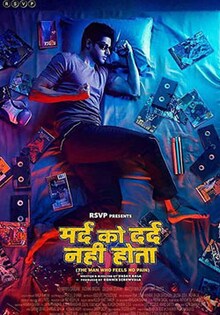 Mard Ko Dard Nahi Hota
Hindi
Updated: Jul 30, 2021
User Rating
3.9 ★
(Rating: 3.9/5 - 11 votes)
Mard Ko Dard Nahi Hota: Release Date, Trailer, Songs, Cast and More
| | |
| --- | --- |
| Release Date | 21st Mar 2019 |
| Language | Hindi |
| Genre | Action, Comedy |
| Duration | 2 hrs 14 mins |
| Cast | Abhimanyu Dassani, Radhika Madan, Gulshan Devaiah, Mahesh Manjrekar, Jimit Trivedi |
| Director | Vasan Bala |
| Producer | Ronnie Screwvala |
| Music Director | Karan Kulkarni |
| Certificate | U |
| Cinematography | Jay Patel |
| Production | RSVP Movies |
| Critics Rating | |
| Your Rating: | |
About Mard Ko Dard Nahi Hota Movie
Mard Ko Dard Nahi Hota is a 2019 Bollywood action comedy film that stars debutant Abhimanyu Dassani, Radhika Madan, Gulshan Devaiah, Mahesh Manjrekar and Jimit Trivedi. Abhimanyu Dassani is Bhagyashree's son who is making his acting debut with this film. The movie is written and directed by Vasan Bala and produced by Ronnie Screwvala under the RSVP movie banner. Mard Ko Dard Nahi Hota got premiered in the Midnight Madness section of the Toronto International Film Festival 2018, where the movie won the People's Choice Award: Midnight Madness. In addition to this, the movie was also screened at the MAMI Film Festival 2018 where the movie received the standing ovation from the viewers. The story of the movie revolves around a young boy Surya who has a rare condition called "Congenital insensitivity" in which he does not feel the pain and sets out learn martial arts and hunt down muggers. Mard Ko Dard Nahi Hota and Kesari are sharing the same release date, it'll be interesting to see how makes a blockbuster opening at the box office.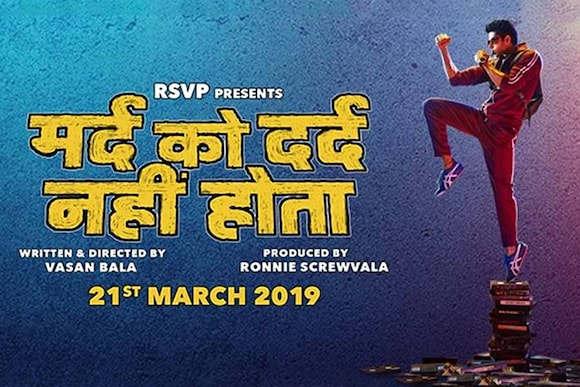 Mard Ko Dard Nahi Hota Movie Ticket Offers, Online Booking, Ticket Price, Reviews and Ratings
Mard Ko Dard Nahi Hota Movie Review
Vasan has come up with an action-comedy that looks like a comic book in which Surya is the super-hero. Surya is having "Congenital insensitivity" who barely feels the pain. Surya is taught to say ouch whenever he sees blood. His grandpa Mahesh Manjrekar introduces Surya to the famous martial arts movies. Surya has grown thinking of a super-hero who avenges the crime. He also suffers from dehydration so he needs to carry water every single place so he keeps sipping the water and stays hydrated. Supri is the love-interest of Surya. Supri is intelligent, badass who will break your bones but the moment her hair flies in Slo-Mo your heart will skip a beat. Radhika Madan as Supri is worthy on the celluloid. Vasan has taken tons of movie references and managed to keep you entertained throughout the movie. The highlight of the movie is the action. The villan part is played by "Jimit Trivedi" who a nut case and give commands sitting a tub full of rose petals. Mahesh Manjrekar is worth watching and his dialogues are crisp and entertaining. The title of the movie is craved from the famous Amitabh Bachchan starer Mard (1985) that has this phrase "Jo Mard Hota Hai Usse Dard Nahi Hota". The movie is full of comedy, action and super-hero assumptions.
Mard Ko Dard Nahi Hota Movie Trailer
Mard Ko Dard Nahi Hota Movie Songs
| # | TITLE | ARTIST | DURATION |
| --- | --- | --- | --- |
| 1. | Rappan Rappi Rap | Benny Dayal | 3:54 |
| 2. | Kitthon Da Tu Superstar | Sanj V, Karan Kulkarni | 2:44 |
| 3. | Tere Liye | Kamakshi Rai, Vishal Mishra, Karan Kulkarni | 3:49 |
| 4. | Nakhrewaali | Karan Kulkarni, Saba Azad | 3:37 |
| 5. | Life Mein Fair Chance Kiska | Suresh Triveni, Surya Ragunaathan, Veera Fauzia Saxena | 3:25 |
| 6. | Dreamtime | Kamakshi Rai | 2:24 |
| 7. | Shaolin Sky | Karan Kulkarni | 2:35 |
| 8. | Kitthon Da Tu Superstar (music by Karan Kulkarni and Dipanjan Guha) | Sanj V | 2:29 |

Viveka is known to her friends as a movie junkie who is also a creative fashion enthusiast in red lipstick. She's passionate about writing! Be it fashion, beauty or movies she is pro. In her free time, she loves to play badminton, cook and binge watch movies. She's also a great observer who has a quirky take on various things, well only close ones know this. Nothing stops her from personifying the creative game.
Related Hindi Movies