The legacy of the Men In Black started off in 1997 and is still thriving in 2019 as Men in Black: International. Directed by F. Garry Gray, this time around, the film's release on the 14th June (India) is keeping the fans eagerly waiting. The franchise has previously thrived with the Men In Black agents J and K, respectively played by Will Smith and Tommy Lee Jones. This time around. starring Chris Hemsworth, Tessa Thompson, and Liam Neeson, with Rebecca Ferguson, Kumail Nanjiani, Rafe Spall, and Les Twins appearing in supporting roles, the Men (and Women) in Black, have a lot in store for us. Protecting the Earth for years from the scum or aliens circling the universe, this time they face their worst nightmare- a mole in the organisation. Their worst nightmare is a thriving threat for the world and its people, and agents H and M employ advanced grade weaponry to battle the threats lurking around our planet.
Men in Black: International Movie Release Date, Trailer and Cast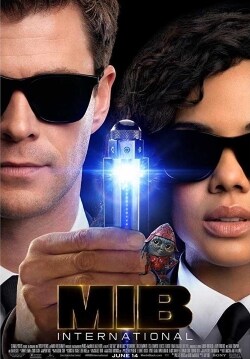 Release Date:
14th June 2019
Language:
English, Hindi, Tamil, Telgu
Genre:
Action, Comedy, Sci-Fi
Cast:
Chris Hemsworth, Tessa Thompson, Rebecca Ferguson, Kumail Nanjiani, Rafe Spall, Les Twins, Emma Thompson, Liam Neeson
Producer:
Walter F. Parkes, Laurie MacDonald
Music Director:
Danny Elfman, Chris Bacon
Cinematography:
Stuart Dryburgh
Production:
Columbia Pictures, Amblin Entertainment, Parkes + Macdonald, Image Nation, Tencent Pictures
Users Rating:
Men in Black: International Movie Trailer
Exciting the fans with new teasers and snippets, the trailers of the upcoming film Men In Black International seems rather appealing. Previously, the adventures of Agents J and K, now the fight of agents H and M to save the world. The trailers leave you wanting to know more! June 14th is a long way down the road!