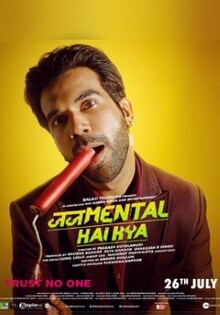 Judgemental Hai Kya
Hindi
Updated: Jul 28, 2021
User Rating
2.4 ★
(Rating: 2.4/5 - 6 votes)
Judgemental Hai Kya: Release Date, Trailer, Songs, Cast and More
| | |
| --- | --- |
| Release Date | 26th Jul 2019 |
| Language | Hindi |
| Genre | Comedy, Drama, Thriller |
| Duration | 2 hrs 1 mins |
| Cast | Kangana Ranaut, Rajkummar Rao, Amyra Dastur, Jimmy Sheirgill, Amrita Puri, Sudev Nair |
| Director | Prakash Kovelamudi |
| Producer | Ekta Kapoor, Shobha Kapoor, Shailesh R Singh |
| Music Director | Arjunna Harjaie, Tanishk Bagchi, Divine |
| Certificate | U/A |
| Cinematography | Pankaj Kumar |
| Production | Balaji Motion Pictures, Karma Media, Entertainment, ALT Entertainment |
| Your Rating: | |
About Judgemental Hai Kya Movie
Judgemental Hai Kya is a new Bollywood psychological black comedy flick that stars Kangana Ranaut and Rajkummar Rao in the lead roles. In the supporting areas, you'll see ace actors like Amyra Dastur, Jimmy Shergill, Amrita Puri and Sudev Nair who shall help in taking the story forward. Judgemental Hai Kya is directed by Prakash Kovelamudi and produced by Ekta Kapoor. Judgemental Hai Kya release date is 26th July 2019.
In the below story find Judgemental Hai Kya trailer, songs, cast and more. Below you can also find popular Judgemental Hai Kya movie ticket offers which you can use to check Judgemental Hai Kya movie ticket price so as to book movie ticket online.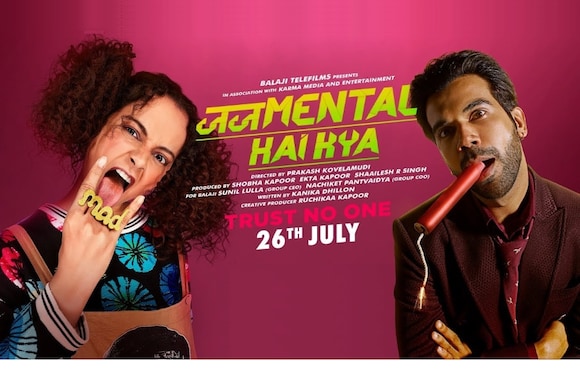 Judgemental Hai Kya Movie Ticket Offers, Online Booking, Ticket Price, Reviews and Ratings
Judgemental Hai Kya Movie Review
Judgementall Hai Kya movie stars two ace Bollywood actors Kangana Ranaut and Rajkummar Rao who are known for delivering terrific performances. Kanika Dhillon's screenplay is perfectly directed by Prakash Kovelamudi. Kangana Ranaut as Bobby Grewal is dealing with a psychological disorder termed as acute psychosis and associative identity disorder. She works as a voice artist and she loves her craft which can be seen in her behavioural traits where she becomes the characters that she's playing while dubbing. She is messy and fierce. She is unapologetic different who has barely nice filters. Be it her abrupt manner or her sharp edges that are revealed in every sequence which you see her doing. She is just remarkable when it comes to acting skills.
Well not to forget Rajkummar Rao as Keshav. He is a worthy sparing part who has an edgy persona. Rajkummar leaves no stone unturned to show justice to the character. We'll not become the spoiler for you as you'd love to see Rajkummar Rao's unfold his performances. Other supporting actors like Jimmy Shergill, Amyra Dastur, Amrita Puri, Brijendra Kala, Satish Kaushik, Lalit Behl and Hussain Dalal has delivered their utmost support to the story of the movie. Watch this quirky, fierce and enticing movie which shall show you a different side of a psychological disorder.
Judgemental Hai Kya Movie Trailer
Judgemental Hai Kya trailer is very eye-catching. Kangana and Rajkummar starer Judgemental Hai Kya brings back the pair after five long years from the film Queen (2014). Judgemental Hai Kya trailer indicates to a quirky and intense mystery flick. Kangana and Rajkummar's characters are suspects for a crime which is murder. This flick is surely going to bring out the wild child in you. As the tag line suggests, it's really a 'trust no one situation' in Judgementall Hai Kya.
Judgemental Hai Kya Movie Songs
The music of the film is composed by Arjuna Harjai, Tanishk Bagchi, Rachita Arora and Daniel B. George. The lyrics are written by Prakhar Varunendra, Tanishk Bagchi, Kumaar, Raja Kumari and Prakahar Vihaan. After "The Wakhra" song, "Para Para" song the new track "Kis Raste Hai Jana" is now out. Watch the song right now.
| # | TITLE | ARTIST | DURATION | PLAY |
| --- | --- | --- | --- | --- |
| 1. | The Wakhra Song | Navv Inder, Raja Kumari | 3:16 | |
| 2. | Para Para | Arun Dev Yadav | 3:51 | |
| 3. | Kis Raste Hai Jana | Surabhi Dashputra, Arjuna Harjai | 3:31 | |
| 4. | Judgementall Hai Kya | Jaspreet Jasz, Rachita Arora, Nivedita Padmanabhan | 2:46 | |
| 5. | Kar Samna | Amir Khan, Brijesh Shandilya, Protijyoti Ghosh, Daniel B. George | 1:20 | |

Viveka is known to her friends as a movie junkie who is also a creative fashion enthusiast in red lipstick. She's passionate about writing! Be it fashion, beauty or movies she is pro. In her free time, she loves to play badminton, cook and binge watch movies. She's also a great observer who has a quirky take on various things, well only close ones know this. Nothing stops her from personifying the creative game.
Related Hindi Movies