Milan Talkies
Hindi
Updated: Jun 06, 2020
User Rating
3.7 ★
(Rating: 3.7/5 - 6 votes)
Milan Talkies: Release Date, Trailer, Songs, Cast and More
| | |
| --- | --- |
| Release Date | 15th Mar 2019 |
| Language | Hindi |
| Genre | Romantic, Action, Drama |
| Duration | 2 hrs 21 mins |
| Cast | Ali Fazal, Shraddha Srinath, Reecha Sinha, Ashutosh Rana, Sanjay Mishra, Sikandar Kher |
| Director | Tigmanshu Dhulia |
| Producer | P.S. Chhatwal |
| Music Director | Dharma Vish |
| Certificate | U/A |
| Cinematography | Hari K. Vedantam |
| Production | Filmy Keeda Productions Pvt Ltd, Torque |
| Critics Rating | |
| Your Rating: | |
About Milan Talkies Movie
Milan Talkies is a Bollywood drama which has the essence of romance and drama into the flick. The movie is directed by Tigmanshu Dhulia and produced by P.S. Chhatwal. The movie stars Ali Fazal and Shraddha Srinath in the lead roles while on the other hand, you can see Reecha Sinha, Ashutosh Rana, Sanjay Mishra and Sikandar Kher in the supporting parts. Milan Talkies official trailer has been already released on 20th Feb 2019.
The plot of the movie revolves around a struggler who aspires to become India's biggest filmmaker. The movie depicts certain incidences about how his life is so drenched in movies and how he falls in love Bollywood style. Quirky dialogues and situational instances take you on a filmy roller-coaster. Milan Talkies is releasing on 15th March 2019 along with Ritesh Batra's Photograph. It'll be great to see, which movie performs well at the box-office.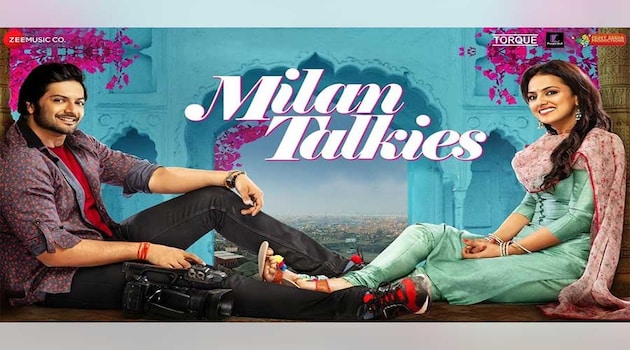 Milan Talkies Movie Ticket Offers, Online Booking, Ticket Price, Reviews and Ratings
Milan Talkies Movie Trailer
Milan Talkies Movie Songs
| # | TITLE | ARTIST | DURATION |
| --- | --- | --- | --- |
| 1. | Bakaiti | Sukhwinder Singh, Benny Dayal | 4:40 |
| 2. | Mind Na Kariyo Holi Hai | Mika Singh, Shreya Ghoshal | 4:46 |
| 3. | Shart | Sonu Nigam | 4:58 |
| 4. | Jobless | Akriti Kakar, Sukriti Kakar, Prakriti Kakar | 2:50 |
| 5. | Shart (Reprise) | Neha Karode | 3:13 |
| 6. | Din Dahade | Neeraj Shridhar, Shaan, Rana Mazumder | 4:39 |

Viveka is known to her friends as a movie junkie who is also a creative fashion enthusiast in red lipstick. She's passionate about writing! Be it fashion, beauty or movies she is pro. In her free time, she loves to play badminton, cook and binge watch movies. She's also a great observer who has a quirky take on various things, well only close ones know this. Nothing stops her from personifying the creative game.