Mohalla Assi is a 2018 Bollywood comedy-drama flick which is directed by Chandraprakash Dwivedi. The movie stars Sunny Deol, Ravi Kishan and Sakshi Tanwar in the prominent roles while Saurabh Shukla, Mukesh Tiwari, Mithilesh Chaturvedi, Rajendra Gupta and Seema Azmi in the supporting roles. The film is loosely based on Dr. Kashi Nath Singh's popular Hindi novel "Kashi Ka Assi", which drops the lights at the satire on the commercialisation of the pilgrimage city and some fake gurus who lure the foreign tourists. Assi Ghat is a ghat located on the banks of Ganges River in the Varanasi (Banaras) city. The film is set in the post-independence period.
In the movie, Sunny Deol plays the role of a Sanskrit teacher and an orthodox religious priest (Pandit) while Sakshi Tanwar plays the role of his wife. The movie depicts the major events held in 1990 and 1989 including Ram Janmabhoomi movement and Mandal Commission implementation.
The release of Mohalla Assi was stayed by a Delhi court for allegedly hurting religious sentiments of the people that could further lead to mass-violence. But after facing so much delay, the movie has finally released on 16th November 2018.
Mohalla Assi Movie Release Date, Trailer and Cast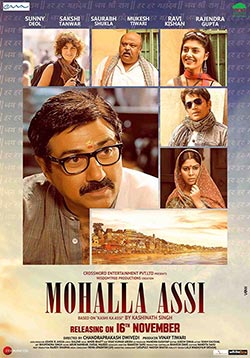 Release Date:
16th November 2018
Cast:
Sunny Deol, Ravi Kishan, Sakshi Tanwar, Saurabh Shukla, Mukesh Tiwari, Mithilesh Chaturvedi, Rajendra Gupta, Seema Azmi
Director:
Chandraprakash Dwivedi
Music Director:
Amod Bhatt
Cinematography:
Vijay Kumar Arora
Production:
Crossword Entertainment Pvt. Ltd.
Critics Rating:
Users Rating:
Mohalla Assi Movie Trailer