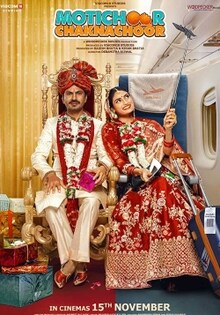 Watch On Netflix
Motichoor Chaknachoor
Hindi
Updated: Jul 28, 2021
User Rating
3.3 ★
(Rating: 3.3/5 - 2 votes)
Motichoor Chaknachoor: Release Date, Trailer, Songs, Cast
| | |
| --- | --- |
| Release Date | 15th Nov 2019 |
| Language | Hindi |
| Genre | Comedy, Romance |
| Duration | 2 hrs 15 mins |
| Cast | Nawazuddin Siddiqui, Athiya Shetty, Vibha Chibber, Navni Parihar, Vivek Mishra |
| Director | Debamitra Biswal |
| Producer | Viacom 18 Motion Pictures, Rajesh Bhatia, Kiran Bhatia |
| Music Director | Bharat-Hitarth, Ramji Gulati, Arjuna Harjai, Amjad Nadeem Aamir, Siddhart Amit Bhavsar |
| Certificate | U/A |
| Cinematography | Suhas Gujarathi |
| Production | Viacom 18 Motion Pictures, Woodpecker Movies Private Limited |
| Your Rating: | |
About Motichoor Chaknachoor Movie
Motichoor Chaknachoor is a Bollywood comedy-drama film that has Nawazuddin Siddiqui and Athiya Shetty in the lead roles. The movie is helmed by Debamitra Biswal and produced by Rajiv and Kiran Bhatia. Apart from, Nawazuddin Siddiqui and Athiya Shetty the movie also has a bunch of supporting stars Vibha Chibber, Vivek Mishra, Karuna Pandey, Navni Parihar, Abhishek Rawat, Sapna Sand, Sanjeev Vats and Usha Nagar. Motichoor Chaknachoor is a rom-com-drama which revolves around a 36-year-old man who trying to find a beautiful wife. Motichoor Chaknachoor release date is 15th November 2019. In this story, you can find major info like Motichoor Chaknachoor trailer, songs, cast, and more. Alongside Motichoor Chaknachoor, Marjaavaan is sharing the same release date.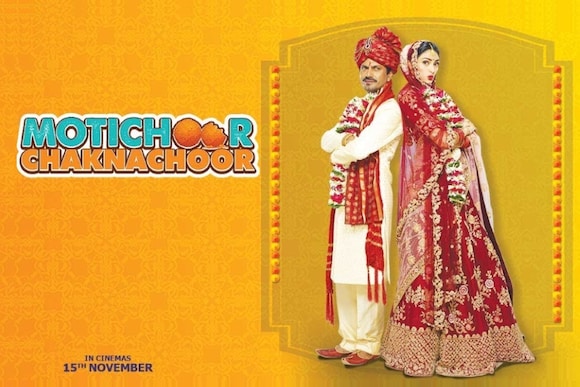 Motichoor Chaknachoor Movie Ticket Offers, Online Booking, Ticket Price, Reviews and Ratings
Motichoor Chaknachoor Movie Review
Motichoor Chaknachoor tries very hard to become a comedy film but fails at it regardless of some great acting by the cast of the film.
Motichoor Chaknachoor is the story of a young girl from Bhopal, Anita Tripathi aka Ani (Athiya Shetty) who wants to go and settle abroad and post photos on social media to make her friends jealous and for that, she decided to marry an NRI boy. On the other hand, there is her neighbour Pushpinder Tyagi (Nawazuddin Siddiqui), a 36-year old bachelor working in Dubai, is looking for a bride, and is ready to settle for anybody. While Pushpinder's mother (Vibha Chibber) is hoping to get her son married only against some fat dowry, Ani's aunt (Karuna Pandey) suggests she considers Pushpinder as an option for the NRI groom. They eventually run away and get married leaving both the family in extreme shock. With some genuinely funny scenes and some emotional moments, both the actors have shined in their respective roles with Athiya Shetty making sincere efforts in pulling off certain scenes.
Except for some dialogues, scenes and tedious chain of events, the film is bare-able and it can be considered as a one – time watch without a second thought about it.
Watch Motichoor Chaknachoor Full Movie Online in HD:
Motichoor Chaknachoor is a rom-com that portrays a story of an unusual couple. To watch the entire drama head on to watch Motichoor Chaknachoor movie online in HD. Grab all your junks and this rom-com movie.
Motichoor Chaknachoor Movie Trailer
Motichoor Chaknachoor is quite is a hilarious ride to the unusual love story. Watch Motichoor Chaknachoor movie trailer and tell us how much did you like the chemistry of Nawazuddin and Athiya Shetty.
Motichoor Chaknachoor Movie Songs
Motichoor Chaknachoor music is composed by Bharat-Hitarth, Arjuna Harjai, Amjad Nadeem Aamir, Ramji Gulati and Siddhart Amit Bhavsar. The lyrics are written by Siddhart Amit Bhavsar, Kumaar and Bharat Menaria. Checkout Motichoor Chaknachoor songs below watch them as well.
| # | TITLE | ARTIST | DURATION | PLAY |
| --- | --- | --- | --- | --- |
| 1. | Crazy Lagdi | Swaroop Khan | 2:37 | |
| 2. | Battiyan Bujhaado | Jyotica Tangri, Ramji Gulati | 3:11 | |
| 3. | Choti Choti Gal | Arjuna Harjai, Yasser Desai | 4:38 | |
| 4. | Kaise Banegi Sarkar | Vidhya Gopal, Dr Pallavi Shyam Sundar, Deepa Shirodkar | 4:13 | |
| 5. | Aaj Jaage Rehna | Himani Kapoor, Siddharth Amit Bhavsar | 4:01 | |
| 6. | Choti Choti Gal - Reprise | Arjuna Harjai, Jyotica Tangri | 4:02 | |

Viveka is known to her friends as a movie junkie who is also a creative fashion enthusiast in red lipstick. She's passionate about writing! Be it fashion, beauty or movies she is pro. In her free time, she loves to play badminton, cook and binge watch movies. She's also a great observer who has a quirky take on various things, well only close ones know this. Nothing stops her from personifying the creative game.
Related Hindi Movies