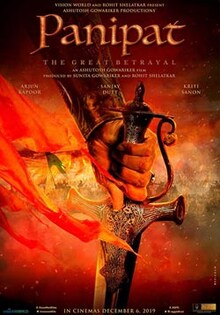 Watch On Netflix
Panipat
Hindi
Updated: Jul 28, 2021
User Rating
3.4 ★
(Rating: 3.4/5 - 8 votes)
Panipat: Release Date, Trailer, Songs, Cast
| | |
| --- | --- |
| Release Date | 6th Dec 2019 |
| Language | Hindi |
| Genre | Action, Drama, History |
| Duration | 2 hrs 42 mins |
| Cast | Kriti Sanon, Arjun Kapoor, Sanjay Dutt, Padmini Kolhapure, Mohnish Bahl |
| Director | Ashutosh Gowariker |
| Producer | Sunita Gowariker, Rohit Shelatkar |
| Music Director | Ajay-Atul |
| Certificate | U/A |
| Cinematography | C. K. Muraleedharan |
| Production | Ashutosh Gowariker Productions, Vision World Films |
| Your Rating: | |
About Panipat Movie
Panipat is a new 2019 Bollywood movie that features Kriti Sanon, Arjun Kapoor, Sanjay Dutt, Padmini Kolhapure and Mohnish Bahl in the lead roles. Ajay-Atul are composing the music for this historical period drama film. The songs of the movie will be written by Javed Akhtar. The movie will be directed by Ashutosh Gowarikar. The Panipat release date 6th December 2019. In the below story, find everything about Panipat trailer, songs, cast and more. Take a look at the Salman Khan starrer movie Dabangg 3.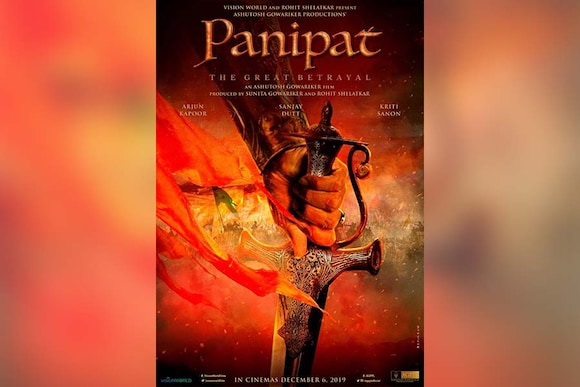 Panipat Movie Ticket Offers, Online Booking, Ticket Price, Reviews and Ratings
Panipat Movie Review
Ashutosh Gowariker is back with yet another historical drama, Panipat, narrating the story of the third battle of Panipat of 1761 which took place between the Marathas and Afghanis.
Panipat is the story of Sadashiv Rao Bhau (Arjun Kapoor) who is a commander in Nanasaheb Peshwa's (Mohnish Bahl) army but later he is made to lead the army to Delhi by the Maratha Peshwa, after the battle against Nizam of Udgir. Then there is Ahmad Shah Abdali (Sanjay Dutt) who has formed an alliance with Najib-Ud-Daula (Mantra) with the intention to defeat the Marathas and expand their control over India. Parvati Bai (Kriti Sanon), Sadashiv's wife also joins the troop of the army from Pune to Delhi along with Sadashiv's nephew and Peshwa's heir Vishwas Rao (Abhishek Nigam), his cousin Shamsher Bahadur (Sahil Salathia) and his advisor Ibrahim Khan Gardi (Nawab Khan). You will also get to catch a glimpse of the romance between Sadashiv and Parvati. The war sequences shown in Panipat are so brilliant that it will give you goosebumps. The added bonuses to the film are the characters of Mohnish Bahl, Padmini Kolhapure and a special appearance of Zeenat Aman.
If you are a fan of history and war drama, Panipat is the movie that you should definitely watch, without thinking twice about it.
Watch Panipat Full Movie Online in HD:
If you've been waiting for Panipat movie to arrive on OTT platform, find yourself lucky as you can enjoy this historic drama and watch it online. Now watch Panipat movie online in HD and see your favourite Bollywood actors perform in this historic drama.
Panipat Movie Trailer
Panipat trailer is one of the most awaited trailer. Take a look at the Panipat official trailer now.
Panipat Movie Songs
The songs from the movie Panipat are finally out. After raring songs like "Mard Maratha" and "Mann Mein Shiva", the new song "Sapna Hai Sach Hai" from the Panipat movie is OUT. Take a look below.
| # | TITLE | ARTIST | DURATION | PLAY |
| --- | --- | --- | --- | --- |
| 1. | Mard Maratha | Ajay - Atul, Sudesh Bhosle, Kunal Ganjawala, Swapnil Bandodkar, Padmanabh Gaikwad, Priyanka Barve | 6:06 | |
| 2. | Mann Mein Shiva | Kunal Ganjawala, Deepanshi Nagar, Padmanabh Gaikwad | 5:17 | |
| 3. | Sapna Hai Sach Hai | Abhay Jodhpurkar, Shreya Ghoshal | 5:26 | |

Viveka is known to her friends as a movie junkie who is also a creative fashion enthusiast in red lipstick. She's passionate about writing! Be it fashion, beauty or movies she is pro. In her free time, she loves to play badminton, cook and binge watch movies. She's also a great observer who has a quirky take on various things, well only close ones know this. Nothing stops her from personifying the creative game.
Related Hindi Movies