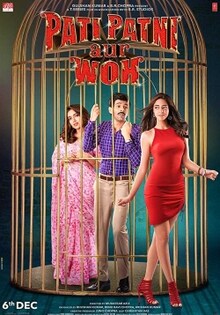 Watch On Amazon Prime
Pati Patni Aur Woh
Hindi
Updated: Jul 28, 2021
User Rating
3 ★
(Rating: 3/5 - 38 votes)
Pati Patni Aur Woh: Release Date, Trailer, Songs, Cast
| | |
| --- | --- |
| Release Date | 6th Dec 2019 |
| Language | Hindi |
| Genre | Comedy, Romance, Drama |
| Duration | 2 hrs 6 mins |
| Cast | Kartik Aaryan, Bhumi Pednekar, Ananya Pandey, Ammar Taalwala |
| Director | Mudassar Aziz |
| Producer | Bhushan Kumar, Krishan Kumar, Juno Chopra, Abhay Chopra |
| Music Director | Tanishk Bagchi, Rochak Kohli, Sachet–Parampara, Tony Kakkar, Lijo George - DJ Chetas |
| Certificate | U/A |
| Cinematography | Chirantan Das |
| Production | T-Series, B.R. Studios |
| Your Rating: | |
About Pati Patni Aur Woh Movie
Pati Patni Aur Woh is a 2019 Bollywood romantic comedy-drama that stars Kartik Aaryan, Ananya Panday and the Bhumi Pednekar in the lead roles. This is an official remake of the film is the official remake of Pati Patni Aur Woh (1978) in which Sanjeev Kumar, Vidya Sinha and Ranjeeta Kaur were in the lead. This rom-com drama is directed by Mudassar Aziz and produced by Bhushan Kumar, Krishan Kumar, Juno Chopra and Abhay Chopra. After Saand Ki Aankh, Bhumi Pednekar will be seen in the Pati Patni Aur Woh. Pati Patni Aur Woh release date is 6th December 2019. In the below story, take a look at the Pati Patni Aur Woh trailer, songs, cast, review and more. All find some amazing updates on the Salman Khan starrer movie Dabangg 3.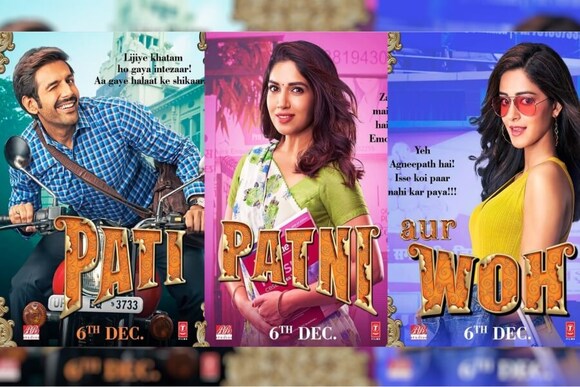 Pati Patni Aur Woh Movie Ticket Offers, Online Booking, Ticket Price, Reviews and Ratings
Pati Patni Aur Woh Movie Review
With old-fashion notions of infidelity, Pati Patni Aur Woh, a remake of BR Chopra directed 1978 film of the same name it is a humorous love-triangle with some cleverly timed dialogues.
Chintu Tyagi (Kartik Aaryan) is a PWD officer in Kanpur who falls in love with Tapasya (Ananya Pandey), his secretary and lies about his wife Vedika (Bhumi Pednekar) having terminal cancer to gain her sympathy and they later start having an affair with Chintu cheating on his wife. All of this leads to a lot of confusion and drama. When both the women get to know that they have been lied to, they confront Chintu about it and he promises to never do anything of this sort ever again. All the characters have been played brilliantly by the actors with an icing on the cake being Faheem Rizvi (Aparshakti Khurrana) who plays the character of Chintu's best-friend and keeps constantly reminding him that what he is doing is not right. Like all the other films in which Kartik Aaryan has starred in, there has been a famous monologue delivered by him and this film isn't any different from the others except this time it is not a woman rant.
If you are looking for a film with not just great performances but also with some great laughs, Pati Patni Aur Woh is the movie you can surely watch without thinking twice about it.
Watch Pati Patni Aur Woh Full Movie Online in HD:
If by any chance you've missed to watch Pati Patni Aur Woh in your nearest cinema hall, worry not as now you can watch Pati Patni Aur Woh full movie online in HD. Now sit on your recliner holding a bowl full of pop-corns and a glass full of cold drink and enjoy this rom-com flick at your own space.
Pati Patni Aur Woh Movie Trailer
Pati Patni Aur Woh trailer is super-hilarious which has all the twists of marriage and extramarital affair in it. Watched the Pati Patni Aur Woh official trailer? Head on to click on the below link to witness the rib-crackling trailer.
Pati Patni Aur Woh Movie Songs
After the sensational songs like "Dheeme Dheeme", "Ankhiyon Se Goli Mare" and "Dilbara" the new song which gives an adorable love song is finally out. Listen to "Tu Hi Yaar Mera" below.
| # | TITLE | ARTIST | DURATION | PLAY |
| --- | --- | --- | --- | --- |
| 1. | Dheeme Dheeme | Neha Kakkar, Tony Kakkar | 2:57 | |
| 2. | Ankhiyon Se Goli Mare | Mika Singh, Tulsi Kumar | 3:26 | |
| 3. | Dilbara | Sachet Tandon, Parampara Thakur | 2:31 | |
| 4. | Tu Hi Yaar Mera | Arijit Singh, Neha Kakkar | 3:20 | |
| 5. | Dilbara (Version 2) | B Praak | 4:07 | |

Viveka is known to her friends as a movie junkie who is also a creative fashion enthusiast in red lipstick. She's passionate about writing! Be it fashion, beauty or movies she is pro. In her free time, she loves to play badminton, cook and binge watch movies. She's also a great observer who has a quirky take on various things, well only close ones know this. Nothing stops her from personifying the creative game.
Related Hindi Movies