Pokémon Detective Pikachu, directed by Rob Letterman, is all set to release on 10 May 2019. The film is going to feature Ryan Reynolds, Suki Waterhouse, Bill Nighy and Kathryn Newton as lead characters and other popular actors in the film are Rita Ora, Chris Geere, Justice Smith, Ken Watanabe and Karan Soni. While we see people collecting pokemons to engage in battle, a rather intriguing Pikachu is on his way to becoming a detective. As exemplary detective Harry Goodman is nowhere to be found, his young son embarks upon a mission to find him with the help of his pokémon partner. The hilarious and rather intriguing character, Pikachu paired with Tim (Justice Smith), form a killer duo, with their conversations going way beyond "Pika Pika". Following the bread-crumbs, the adventure to find Tim's father takes the two of them through a flash of frightening reality- one that could potentially cause havoc in the Pokémon universe.
Pokémon: Detective Pikachu Movie Release Date, Trailer and Cast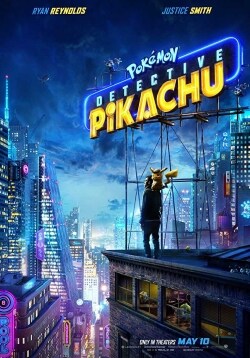 Release Date:
10th May 2019
Language:
English, Hindi, Tamil, Telgu
Genre:
Action, Adventure, Comedy
Cast:
Ryan Reynolds, Justice Smith, Kathryn Newton, Suki Waterhouse, Omar Chaparro, Chris Geere, Ken Watanabe, Bill Nighy
Producer:
Mary Parent, Cale Boyter, Hidenaga Katakami, Don McGowan, Greg Baxter, Cliff Lanning, Ali Mendes
Music Director:
Henry Jackman
Cinematography:
John Mathieson
Production:
Warner Bros. Pictures, Legendary Pictures, The Pokémon Company
Users Rating:
Pokémon: Detective Pikachu Movie Trailer
So he's a talking Pikachu with no memories who are addicted to caffeine who meets a boy in search of his missing father. What does this crazy duo on an adventurous mission encounter? Stay intrigued with these trailers, and stay tuned till May 2019.