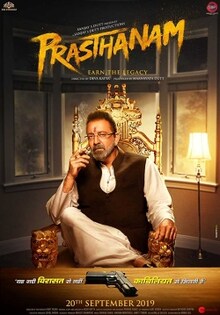 Watch On Amazon Prime
Prassthanam
Hindi
Updated: Jul 30, 2021
User Rating
4 ★
(Rating: 4/5 - 5 votes)
Prassthanam: Release Date, Trailer, Songs, Cast
| | |
| --- | --- |
| Release Date | 20th Sep 2019 |
| Language | Hindi |
| Genre | Action, Drama |
| Duration | 2 hrs 34 mins |
| Cast | Sanjay Dutt, Manisha Koirala, Jackie Shroff, Chunky Pandey, Ali Fazal, Satyajeet Dubey |
| Director | Deva Katta |
| Producer | Sanjay S Dutt Productions, Maanayata Dutt |
| Music Director | Ilaiyaraaja |
| Certificate | U/A |
| Cinematography | Setu (Satyajit Pande) |
| Production | Sanjay S Dutt Productions |
| Your Rating: | |
About Prassthanam Movie
Prassthanam is a Bollywood movie that is a remake of the Telugu movie of the same name. This Bollywood movie stars Sanjay Dutt, Manisha Koirala, Amyra Dastur, Jackie Shroff, Chunky Pandey, Ali Fazal and Satyajeet Dubey in the main lead roles. Sanjay Dutt plays the role of a politician as Baldev Pratap Singh and the movie revolves around him and his family. In the below story, you'll find the major info about the movie like Prassthanam release date, trailer, songs, review and much more. Well, Prassthanam was released on 20th September 2019 and it shared its release date with other two Bollywood movies: Pal Pal Dil Ke Paas and The Zoya Factor.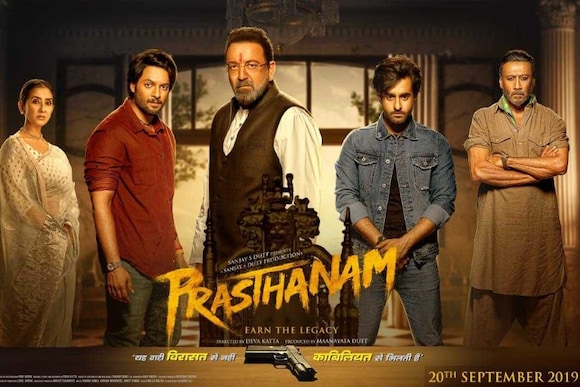 Prassthanam Movie Ticket Offers, Online Booking, Ticket Price, Reviews and Ratings
Prassthanam Movie Review
Sanjay Dutt is back with yet another drama film, this time being a political drama that explores human nature, complex relationships, emotional turmoil and the most important thing-hunger for power.
Being the official Hindi remake of the Telugu film of the same name there is basically no difference in the stories between the two except the names of the characters and the actors playing them. The story of Prassthanam revolves around Baldev Pratap Singh (Sanjay Dutt) and his family. Soon after Baldev gets married to a widow named Sukmini (Manisha Koirala), who already has 2 children – Aayushmann Singh (Ali Fazal) and Palak (Chahat Khanna), they have a biological son named Vivaan (Satyajeet Dubey) who is good for nothing person and wants nothing but the throne of his father by hook or by crook. When Baldev says to Aayushman that he will be the next person to reign his political empire, that's when the story begins to catch its pace.
You need to watch the film to find out what happens in the family, how Vivaan will try to convince Baldev to support him and not Aayushmann, who gets Baldev's throne and become the heir of the family. Also, if you happen to be a fan of political drama, this film is just for you.
Watch Prassthanam Full Movie Online in HD
This is a story of a politician who chooses his stepson as his heir due to his sincerity but his own son dislikes the decision and conducts triggering violence against his father. To watch this heir-related family drama, click on the "Watch on Amazon Prime" button right away.
Prassthanam Movie Trailer
After Prassthanam teaser, Prassthanam official trailer is OUT. Checkout!
Prassthanam Movie Songs
After a strong Prassthanam Title Track, the new peppy number "Dil Bevda" is OUT. Watch the song below.
| # | TITLE | ARTIST | DURATION | PLAY |
| --- | --- | --- | --- | --- |
| 1. | Prassthanam Title Track | Dev Negi | 3:37 | |
| 2. | Dil Bevda | Mika Singh, Bhoomi Trivedi | 3:51 | |
| 3. | Dil Dariyan | Ankit Tiwari, Deepali Sathe | | |

Viveka is known to her friends as a movie junkie who is also a creative fashion enthusiast in red lipstick. She's passionate about writing! Be it fashion, beauty or movies she is pro. In her free time, she loves to play badminton, cook and binge watch movies. She's also a great observer who has a quirky take on various things, well only close ones know this. Nothing stops her from personifying the creative game.
Related Hindi Movies