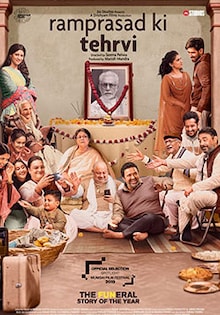 Ramprasad Ki Tehrvi
Hindi
Updated: Feb 17, 2021
User Rating
4.3 ★
(Rating: 4.3/5 - 2 votes)
Ramprasad Ki Tehrvi: Release Date, Trailer, Songs, Cast and More
| | |
| --- | --- |
| Release Date | 1st Jan 2021 |
| Language | Hindi |
| Genre | Comedy, Drama |
| Duration | 1 hrs 55 mins |
| Cast | Naseeruddin Shah, Vinay Pathak, Vikrant Massey, Konkona Sen Sharma, Vineet Kumar, Manoj Pahwa, Parambrata Chattopadhyay, Supriya Pathak, Deepika Amin, Ninad Kamat |
| Director | Seema Pahwa |
| Producer | Jio Studios, Drishyam Films |
| Music Director | Sagar Desai |
| Cinematography | Sudip Sengupta |
| Production | Drishyam Films, Jio Studios |
| Your Rating: | |
About Ramprasad Ki Tehrvi Movie
Ramprasad Ki Tervi is a new Bollywood drama film which is directed by actor-turned-director Seema Pahwa and with this movie she is making her directorial debut. The movie is been produced under the banners of Jio Studios and Drishyam Films. It stars Naseeruddin Shah, Konkana Sen Sharma, Vinay Pathak, Supriya Pathak, Manoj Pahwa and Vineet Kumar as leading characters. Ramprasad Ki Tervi was premiered at Mumbai Film Festival on 17th October 2019 and has released theatrically on 1st January 2021. In the below story you will find more info about the movie like Ramprasad Ki Tervi cast, review, songs and more. Scroll down to take a look.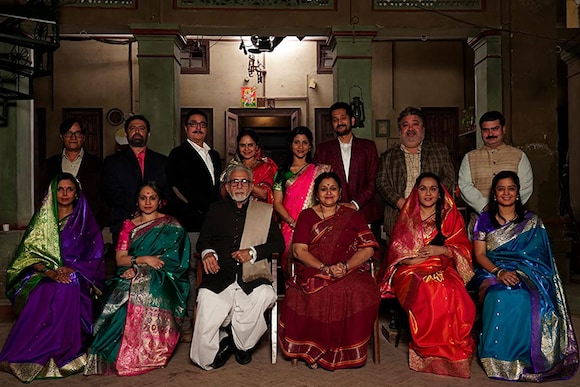 Ramprasad Ki Tehrvi Movie Ticket Offers, Online Booking, Ticket Price, Reviews and Ratings
Ramprasad Ki Tehrvi Movie Review
Ramprasad ki Tervi is the story of Bhargava family, who gather under one roof for 13 days after the sudden death of Ramprasad Bhargava (Naseeruddin Shah). The film shows clashes among the sons of Ramprasad as they struggle to manage the responsibilities of the family and also who will take care of their mother and Ramprasad's wife a.k.a. Savitri (Supriya Pathak). The story of the film is neither funny nor emotional enough to keep the audiences glued to the film. The entire cast of the film has given amazing performances and even though the plot of the film is highly relatable but it ends up being a dull and gloomy film to watch. It also has small humour elements here and there but not the ones that will make you roll on the floor laughing.
Overall, Ramprasad ki Tervi has an amazing star cast but the film turns out to be an average film trying too hard to entertain.
Ramprasad Ki Tehrvi Movie Trailer
Watch the Ramprasad Ki Tervi official trailer below.

Viveka is known to her friends as a movie junkie who is also a creative fashion enthusiast in red lipstick. She's passionate about writing! Be it fashion, beauty or movies she is pro. In her free time, she loves to play badminton, cook and binge watch movies. She's also a great observer who has a quirky take on various things, well only close ones know this. Nothing stops her from personifying the creative game.
Related Hindi Movies