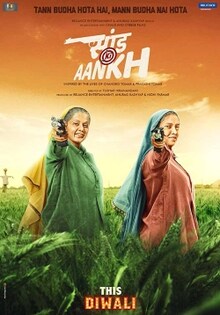 Watch On Zee5
Saand Ki Aankh
Hindi
Updated: Jul 28, 2021
User Rating
3.7 ★
(Rating: 3.7/5 - 5 votes)
Saand Ki Aankh: Release Date, Trailer, Songs, Cast
| | |
| --- | --- |
| Release Date | 25th Oct 2019 |
| Language | Hindi |
| Genre | Comedy, Drama |
| Duration | 2 hrs 29 mins |
| Cast | Bhumi Pednekar, Taapsee Pannu, Prakash Jha, Vineet Kumar Singh |
| Director | Tushar Hiranandani |
| Producer | Anurag Kashyap, Nidhi Parmar, Ajay Rai |
| Music Director | Vishal Mishra |
| Certificate | U/A |
| Cinematography | Sudhakar Reddy Yakkanti |
| Production | Anurag Kashyap Productions, Reliance Entertainment |
| Your Rating: | |
About Saand Ki Aankh Movie
Saand Ki Aankh is a Hindi movie of 2019 movie which is full of drama as it as based on the lives of India's oldest sharpshooters, octogenarians Chandro and Prakashi Tomar. The duo are also famous by the name of 'revolver dadis ' or 'shooter dadis ' of Johri, Uttar Pradesh. In the movie, Bhumi Pednekar is playing the role of Chandro Tomar, while Taapsee is playing the role of Prakashi Tomar. Tushar Hiranandani, the scriptwriter is marking his directorial debut under the banner of Anurag Kashyap production banner. Saand Ki Aankh cast, includes Bhumi Pednekar, Taapsee Pannu, Prakash Jha and Vineet Singh in the lead roles. Vineet did his Bollywood debut with Kashyap's in Mukkabaaz. We're already excited to watch this journey which makes this movie one the much-awaited movies of Bollywood. Saand Ki Aankh movie shares the release date with the other Bollywood movies like Made In China and Housefull 4. Also, in the below story, you'll find details like Saand Ki Aankh release date, cast, songs, trailer and more.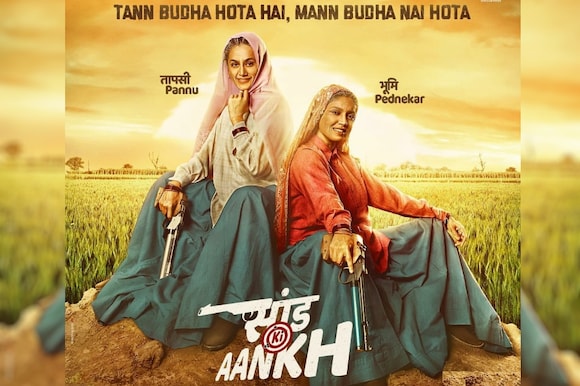 Saand Ki Aankh Movie Ticket Offers, Online Booking, Ticket Price, Reviews and Ratings
Saand Ki Aankh Movie Review
Based on a true story, Saand ki Aankh is a woman-centric film. It is about Chandro Tomar (Taapsee Pannu) and Prakashi Tomar (Bhumi Pednekar) who hails from Johri Village, Uttar Pradesh. They are a pair of sisters in law who, in their sixties, became the oldest sharpshooter champions and won several medals.
Chandro and Prakashi live with their respective husbands, children and grandchildren and come from a society where women don't step out without the men's permission and the final word, in any decision, is of their brother in law Ratan Singh (Prakash Jha). However, the duo sister in-laws sneaks out of their houses to learn shooting at a range that is set up by a doctor (Viineet Kumar) and when they get trained completely, Chandro and Prakashi lie at their house to attend various championships. They do all this so that the daughters and grand-daughters of the family do not suffer the same way they had to suffer and get away from their miserable lives. Saand ki Aankh is a story about women empowerment that will inspire you by the way the duo challenges the patriarchy by going against men and picking up guns to pursue their dreams.
Saand ki Aankh is a delight to watch and it will leave it impossible for you to not root for Chandro and Prakashi for showing their courage and determination.
Watch Saand Ki Aankh Full Movie Online in HD
Watch this biographical movie, Saandh Ki Aankh that narrates the inspiring story of two world's famous oldest female sharpshooters, who have set perfect example for defied ageism. Watch Saand ki Aankh full movie online in HD for a delightful learning experience.
Saand Ki Aankh Movie Trailer
After the intriguing Saand Ki Aankh teaser, Saand Ki Aankh official trailer is here for you to witness the tale of the shooter dadi's. Watch it now!
Saand Ki Aankh Movie Songs
The songs of the Saand Ki Aankh movie are composed by Vishal Mishra, and the lyrics are written by Raj Shekhar. After the "Udta Teetar" song, "Womaniya" song, the new track "Baby Gold" is OUT, watch the song Baby Gold below.
| # | TITLE | ARTIST | DURATION | PLAY |
| --- | --- | --- | --- | --- |
| 1. | Udta Teetar | Sunidhi Chauhan, Jyoti Nooran | 4:30 | |
| 2. | Womaniya | Vishal Dadlani, Vishal Mishra | 3:54 | |
| 3. | Aasmaa | Asha Bhosle | 6:09 | |
| 4. | Baby Gold | Sona Mohapatra, Jyotica Tangri | 3:35 | |
| 5. | Jhunna Jhunna | Pratibha Singh Baghel, Krutika Borkar | 4:11 | |
| 6. | Womaniya (Raw Version) | Vishal Mishra | 3:54 | |
| 7. | Aasmaa (Studio Version) | Vishal Mishra | 6:09 | |

Viveka is known to her friends as a movie junkie who is also a creative fashion enthusiast in red lipstick. She's passionate about writing! Be it fashion, beauty or movies she is pro. In her free time, she loves to play badminton, cook and binge watch movies. She's also a great observer who has a quirky take on various things, well only close ones know this. Nothing stops her from personifying the creative game.
Related Hindi Movies