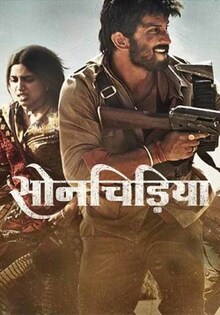 Watch On Zee5
Sonchiriya
Hindi
Updated: Jun 06, 2020
User Rating
2.8 ★
(Rating: 2.8/5 - 4 votes)
Sonchiriya: Release Date, Trailer, Songs, Cast
| | |
| --- | --- |
| Release Date | 1st Mar 2019 |
| Language | Hindi |
| Genre | Crime Drama |
| Duration | 2 hrs 23 mins |
| Cast | Sushant Singh Rajput, Bhumi Pednekar, Manoj Bajpayee, Ranvir Shorey, Ashutosh Rana |
| Director | Abhishek Chaubey |
| Producer | Ronnie Screwvala |
| Music Director | Vishal Bhardwaj |
| Certificate | U/A |
| Cinematography | Anuj Rakesh Dhawan |
| Production | RSVP Movies |
| Critics Rating | |
| Your Rating: | |
About Sonchiriya Movie
Sonchiriya is a Bollywood crime movie that portrays the story of Chambal dacoits. This is one of the much-anticipated movies which is directed by Abhishek Chaubey and produced by Ronnie Screwvala. It features Sushant Singh Rajput, Bhumi Pednekar, Manoj Bajpayee, Ranvir Shorey and Ashutosh Rana in the lead roles. Sushant Singh Rajput is looking ravishing and is here to steal hearts. Bhumi Pednekar is also no less as in the first look of the movie she looks like one real Badass Dacoit. Watch out the Sonchiriya official trailer and see the actors performs their best in the role of dacoits.
Without wasting a single moment, take a look at the Sonchiriya movie ticket booking offers to book movie tickets online at a pretty cheaper price.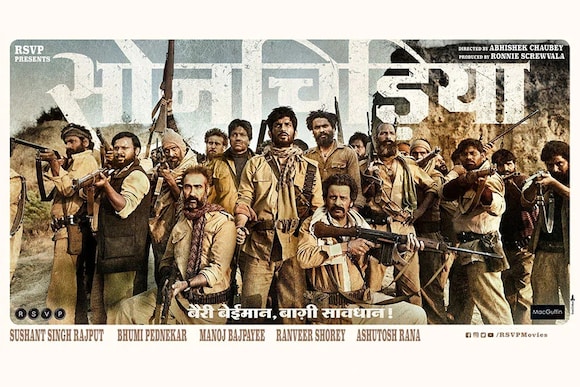 Sonchiriya Movie Ticket Offers, Online Booking, Ticket Price, Reviews and Ratings
Sonchiriya Movie Review
Sonchiriya is a multi-starrer movie which revolves around the Chambal and shows the era of 1975 during which emergency was being set. The movie depicts the caste, violence and jungle laws and life in the Chambal forest is nasty, brutal and short. The sequences are shot on actual locations and the dacoits fear remains prominent no matter whatever be the occasion. Coming on the performances of the characters, Manoj Bajpayee does a prolific job in his part. Sushant Singh Rajput and Bhumi Pednekar are also drenched into their characters and leave no stone unturned. Ranvir Shorey inhabits the character seamlessly and this is can be prominently seen in the movie. Ashutosh Rana is terrifying as the cop in the movie who is constantly chasing the dacoits.
Abhishek Chaubey as the director of the movie does a great job. But the writing slightly starts to way down. The movie doesn't connect as understanding language is also one aspect. You can head on to watch Sonchiriya as the cast is terrific and you will feel worth when spending those hours in the cinema halls.
Watch Sonchiriya Full Movie Online in HD:
Sonchiriya is a dacoit drama which can be now watched online in full HD. The bunch of great actors, terrific performances and none acting at the prominent hero of the movie all seems to be doing their part which makes the watching experience ever better. Stop reading on all the admirations and simply click on the watch button to watch Sonchiriya full movie online in HD.
Sonchiriya Movie Trailer
Sonchiriya Movie Songs
| # | TITLE | ARTIST | DURATION | PLAY |
| --- | --- | --- | --- | --- |
| 1. | Baaghi Re | Mame Khan | 4:42 | |
| 2. | Sonchiraiya | Rekha Bhardwaj | 5:08 | |
| 3. | Ruan Ruan | Arijit Singh | 3:41 | |
| 4. | Naina Na Maar | Sukhwinder Singh, Rekha Bhardwaj | 3:48 | |
| 5. | Saanp Khavega | Sukhwinder Singh | 4:01 | |
| 6. | Sonchiraiya (Reprise) | Rekha Bhardwaj | 4:59 | |
| 7. | Baaghi Re (Remix) | Mame Khan | 3:58 | |

Viveka is known to her friends as a movie junkie who is also a creative fashion enthusiast in red lipstick. She's passionate about writing! Be it fashion, beauty or movies she is pro. In her free time, she loves to play badminton, cook and binge watch movies. She's also a great observer who has a quirky take on various things, well only close ones know this. Nothing stops her from personifying the creative game.
Related Hindi Movies