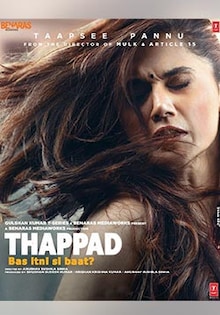 Watch On Amazon Prime
Thappad
Hindi
Updated: Jul 01, 2020
User Rating
3.8 ★
(Rating: 3.8/5 - 6 votes)
Thappad: Release Date, Trailer, Songs, Cast
| | |
| --- | --- |
| Release Date | 28th Feb 2020 |
| Language | Hindi |
| Genre | Drama |
| Duration | 2 hrs 22 mins |
| Cast | Taapsee Pannu, Pavail Gulati |
| Director | Anubhav Sinha |
| Producer | Anubhav Sinha, Bhushan Kumar |
| Music Director | Arko Pravo Mukherjee, Tanishk Bagchi, Sachet-Parampara, Ajay-Atul |
| Certificate | U/A |
| Cinematography | Ewan Mulligan |
| Production | Benaras Media Works, T-Series |
| Your Rating: | |
About Thappad Movie
Thappad is a new Bollywood movie of 2020, whose cast incorporates Taapsee Pannu and Pavail Gulati in the lead roles. Thappad was released on 28th February 2020, during the first lockdown, due to which theatre release got shifted to OTT platform. The movie reloves around Amu played by Taapsee and her husband played by Pavail Gulati, where Amu (Taapsee) seeks a divorce from her husband (Pavail Gulati) after he slaps her at a party in front of everyone. People around her ask Amu to forgive her husband but she decides to fights back. After watching the Thappad movie trailer, it will become much relatable that why Taapsee expressed her disinterest for Kabir Singh and she does not support violence with women.
In the below story, you shall witness some more details about the movie like Thappad trailer, songs, release date, cast, review and much more.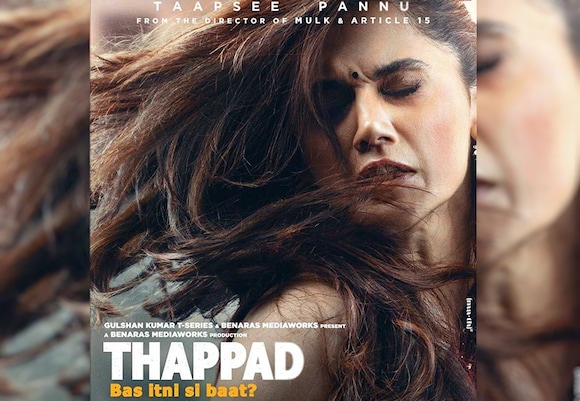 Thappad Movie Ticket Offers, Online Booking, Ticket Price, Reviews and Ratings
Thappad Movie Review
Thappad is a movie about Amrita (Taapsee Pannu) who leads a happy and content life with her husband Vikram (Pavail Gulati). Vikram, who is about to get a promotion and shift to London with Amrita and also ends up getting it, slaps Amrita in a promotion celebration party when he gets into a tiff with his boss and she tries to intervene and stop them from fighting. This entire incident turns their life upside down and Amrita ends up demanding a divorce from Vikram. Taapsee's performance will make you believe the character so much that you will start to feel all of Amrita's emotions. Not just Taapsee but all the characters of the movie have done a tremendous job and they have given a power-packed performance.
The story of Thappad is very powerful and it delivers a very strong message against domestic violence also that not everything should be tolerated in marriage.
Watch Thappad Full Movie Online in HD
Thappad was the second collaboration of Taapsee and director Abhinav Sinha after the movie Mulk (2018). if you missed on to watch the movie in your nearest theatres then worry not as you can watch Thappad full movie online in HD on Amazon Prime and checkout the magic of this duo.
Thappad Movie Trailer
The Thappad trailer is the reality of a matriarchal society where women are deprived of honor, respect and equality. Have a look as many are going through this on a daily basis in their day to day lives? Take a look below.
Thappad Movie Songs
The first song from Thappad movie is out. Listen to the latest track "Ek Tukda Dhoop" below.
| # | TITLE | ARTIST | DURATION | PLAY |
| --- | --- | --- | --- | --- |
| 1. | Ek Tukda Dhoop | Raghav Chaitanya | | |

Viveka is known to her friends as a movie junkie who is also a creative fashion enthusiast in red lipstick. She's passionate about writing! Be it fashion, beauty or movies she is pro. In her free time, she loves to play badminton, cook and binge watch movies. She's also a great observer who has a quirky take on various things, well only close ones know this. Nothing stops her from personifying the creative game.
Related Hindi Movies