The Extraordinary Journey of the Fakir
English, Hindi
Updated: Jul 28, 2021
The Extraordinary Journey of the Fakir: Release Date, Trailer, Songs, Cast and More
| | |
| --- | --- |
| Release Date | 21st Jun 2019 |
| Language | English, Hindi |
| Genre | Comedy, Drama |
| Duration | 1 hrs 32 mins |
| Cast | Dhanush, Bérénice Bejo, Erin Moriarty, Barkhad Abdi, Gérard Jugnot |
| Director | Ken Scott |
| Producer | Luc Bossi, Jon Goldman, Saurabh Gupta, Aditi Anand, Gulzar Chahal |
| Music Director | Nicolas Errèra, Amit Trivedi |
| Certificate | U/A |
| Cinematography | Vincent Mathias |
| Your Rating: | |
About The Extraordinary Journey of the Fakir Movie
The Extraordinary Journey of the Fakir is directed by Ken Scott, the film is based on the novel by Romain Puertolas titled as "The Extraordinary Journey of the Fakir Who Got Trapped in an Ikea Wardrobe". The film stars artists like Dhanush, Berenice Bejo and Erin Moriarty in leading roles. The movie was shot in India, Paris, Brussels and Rome. The film released on May 30, 2019, in France. It is releasing in India, USA, Canada, UK, Singapore and Malaysia on 21 June 2019.
Ajatashatru Lavash Patel has lived in a little Mumbai neighbourhood deceiving individuals with enchanting magic tricks and fakir stunts. He sets out on a voyage to locate his lost father, and gets pulled into an unending adventure! This mystical journey is all set to make its way through the doors of the theatres near us on 30 May 2019! Aja (Dhanush) embarks upon a simple journey filled with intriguing situations and wild adventures. He grows as a character but does not fail to leave behind his enchanting tactics of deceiving people! This journey is going to a mystical one, and one that should not be missed! We have hot air balloons, immigrants and interesting cab drivers, Aja is going on one interesting journey!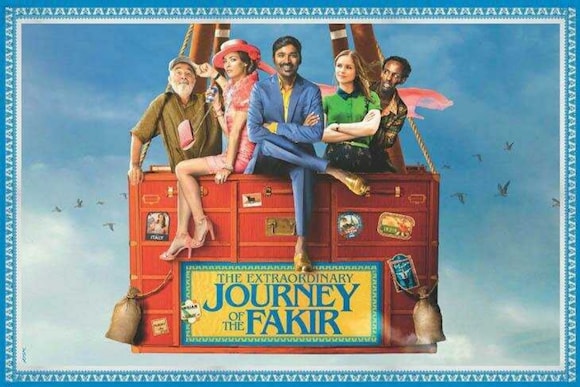 The Extraordinary Journey of the Fakir Movie Ticket Offers, Online Booking, Ticket Price, Reviews and Ratings
The Extraordinary Journey of the Fakir Movie Trailer
This is a film that brings together a multitude of talent and a diverse range of cultures- making it one fascinating film we cannot wait to watch! It is a fable-like-telling, coming to real life.

Viveka is known to her friends as a movie junkie who is also a creative fashion enthusiast in red lipstick. She's passionate about writing! Be it fashion, beauty or movies she is pro. In her free time, she loves to play badminton, cook and binge watch movies. She's also a great observer who has a quirky take on various things, well only close ones know this. Nothing stops her from personifying the creative game.