The Grudge
English
Updated: Jul 28, 2021
The Grudge: Release Date, Trailer, Songs, Cast and More
| | |
| --- | --- |
| Release Date | 3rd Jan 2020 |
| Language | English |
| Genre | Horror, Mystery |
| Duration | 1 hrs 34 mins |
| Cast | Andrea Riseborough, Demián Bichir, John Cho, Betty Gilpin, Lin Shaye, Jacki Weaver |
| Director | Nicolas Pesce |
| Producer | Sam Raimi, Rob Tapert, Taka Ichise |
| Music Director | The Newton Brothers |
| Certificate | A |
| Cinematography | Zachary Galler |
| Production | Screen Gems, Stage 6 Films, Ghost House Pictures |
| Your Rating: | |
About The Grudge Movie
The Grudge is a supernatural horror film that is written and directed by Nicolas Pesce and produced by Screen Gems, Stage 6 Films and Ghost House Pictures. It is the fourth installment in the film series of the same name – The Grudge, with the first one being the American remake of the Japanese original Ju-On: The Grudge. The film stars Andrea Riseborough, Demián Bichir, John Cho, Betty Gilpin, Lin Shaye and Jackie Weaver. The story of The Grudge shows how a young detective, who is also a single mother, saves herself and her son from the demonic spirits after discovering that the house in their neighbour is cursed and those who enter in that house die a violent death because it is haunted by a vengeful ghost of a woman who murders her family in her own house. The Grudge has been scheduled to release on 3rd January 2020 by Sony Pictures Entertainment.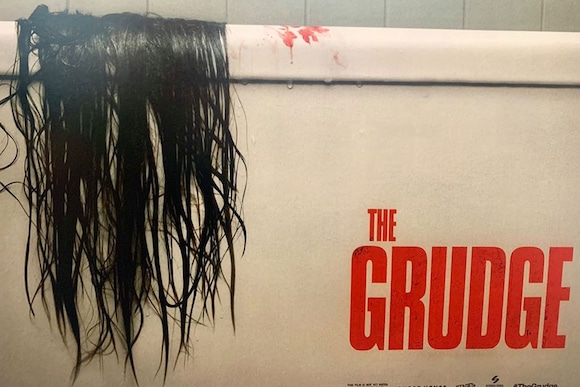 The Grudge Movie Ticket Offers, Online Booking, Ticket Price, Reviews and Ratings
The Grudge Movie Trailer
The Grudge trailer is horrifying. Make sure you don't watch it alone if you're scared of ghosts and spirits. The trailer indicates that the story revolves around the person who dies in the grip of rage, the curse rises to take the revenge. Sound's interesting right? Take a look at The Grudge trailer below.

Viveka is known to her friends as a movie junkie who is also a creative fashion enthusiast in red lipstick. She's passionate about writing! Be it fashion, beauty or movies she is pro. In her free time, she loves to play badminton, cook and binge watch movies. She's also a great observer who has a quirky take on various things, well only close ones know this. Nothing stops her from personifying the creative game.
Related Hollywood Movies