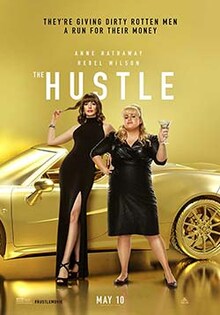 The Hustle
English, Hindi, Tamil, Telgu
Updated: Jul 28, 2021
The Hustle: Release Date, Trailer, Songs, Cast and More
| | |
| --- | --- |
| Release Date | 17th May 2019 |
| Language | English, Hindi, Tamil, Telgu |
| Genre | Comedy |
| Duration | 1 hrs 34 mins |
| Cast | Anne Hathaway, Rebel Wilson, Alex Sharp, Dean Norris |
| Director | Chris Addison |
| Producer | Roger Birnbaum, Rebel Wilson |
| Music Director | Anne Dudley |
| Certificate | U/A |
| Cinematography | Michael Coulter |
| Production | Pin High Productions, Cave 76 Productions, Camp Sugar Productions, Metro-Goldwyn-Mayer |
| Your Rating: | |
About The Hustle Movie
With a cast like Rebel Wilson and Anne Hathaway, The Hustle, is presumably going to be one fire-cracker of a movie! All set to be released on the 17th of May 2019, the film has been directed by Chris Addison. The two actresses will be playing the roles of two con artists, who pair up to take up defrauding men in different parts of the world. "Why are women better suited to the con than men?" because "No man will ever believe a woman is smarter than he is" is what drives them to be the successful con artists. The two characters, give men a taste of their own medicine. The combination of the two strong personalities, each having strengths of her own, helps them thrive as a duo. Penny (Rebel Wilson), an Aussie who is fun-loving and Josephine (Anne Hathaway) who is as cunning as it gets embark upon their missions and adventures using their fun-loving nature and sneaky wit. The strong duo, give "dirty, rotten men a run for their money" by pooling in their qualities to form one strong force the men did not see coming!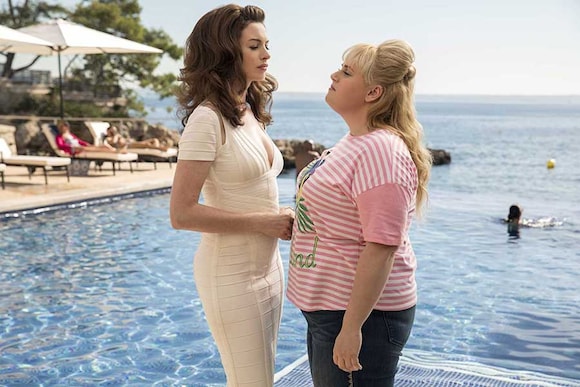 The Hustle Movie Ticket Offers, Online Booking, Ticket Price, Reviews and Ratings
The Hustle Movie Trailer
GIving a strong glimpse into what is about to come our way, the trailers will make you want to grab a tub of popcorn and head towards the cinemas ASAP!

Viveka is known to her friends as a movie junkie who is also a creative fashion enthusiast in red lipstick. She's passionate about writing! Be it fashion, beauty or movies she is pro. In her free time, she loves to play badminton, cook and binge watch movies. She's also a great observer who has a quirky take on various things, well only close ones know this. Nothing stops her from personifying the creative game.
Related Hollywood Movies