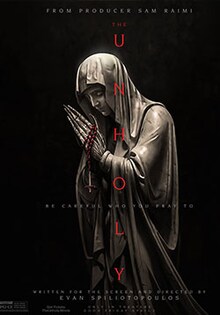 The Unholy
English
Updated: Jul 28, 2021
The Unholy: Release Date, Trailer, Songs, Cast and More
| | |
| --- | --- |
| Release Date | 2nd Apr 2021 |
| Language | English |
| Genre | Horror |
| Duration | 1 hrs 39 mins |
| Cast | Jeffrey Dean Morgan, Katie Aselton, Cary Elwes, Diogo Morgado, Cricket Brown, William Sadler |
| Director | Evan Spiliotopoulos |
| Producer | Evan Spiliotopoulos, Sam Raimi, Robert Tapert |
| Music Director | Joseph Bishara |
| Cinematography | Craig Wrobleski |
| Production | Screen Gems, Ghost House Pictures |
| Your Rating: | |
About The Unholy Movie
The Unholy is a horror supernatural film that has been directed by debutant Evan Spiliotopoulos. The film is based on a 1983 novel names Shrine written by James Herbert and the screenplay of the film has been written by director Evan. It is about Gerry Fenn, a dishonoured journalist, who investigates a girl and her unexplainable power of healing the sick. The film stars Jeffery Dean Morgan as Gerry Fenn alongside Katie Aselton, Cricket Brown, William Sadler, Cary Elwes and Diogo Morgado.
The Unholy has been produced by Robert Tapert, Sam Raimi and Evan Spiliotopoulos under the production houses Ghost House Pictures and Screen Gems. Distributed by Sony Pictures Releasing, the film has already released on 2nd April 2021.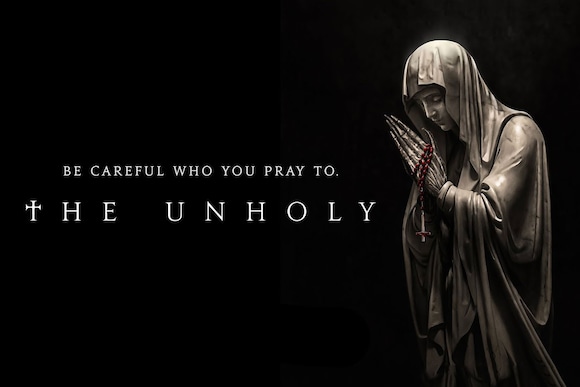 The Unholy Movie Ticket Offers, Online Booking, Ticket Price, Reviews and Ratings
The Unholy Movie Review
The Unholy, based on Shrine a 1983 novel by James Herbert, is about a dishonoured journalist Gerry Fenn who is investigating the incident of cattle mutilation in a small town named Massachusetts. While his investigation, he meets a deaf and mute teenage girl named Alice who has the power of healing the sick and she also has visions of who she thinks is Virgin Mary. The Unholy is a religious horror with some outstanding jump-scares but the entire story feels a little sketched not giving realistic feels. Though Cricket Brown as Alice has done an amazing part in playing the character, Jeffery as Gerry Fenn has been disappointing in impressing the audience. The cinematographer Craig Wrobleski is also one of the reasons why the film is a bit off because he has shown the entire town as haunted and scary with his off angles and scary-looking churches, woods and buildings. It also has some cliché visuals that feel very repetitive.
The Unholy has uneven storytelling that fails to leave an impact in the minds of the audience.
The Unholy Movie Trailer
Take a look at the "The Unholy" official trailer below.

Viveka is known to her friends as a movie junkie who is also a creative fashion enthusiast in red lipstick. She's passionate about writing! Be it fashion, beauty or movies she is pro. In her free time, she loves to play badminton, cook and binge watch movies. She's also a great observer who has a quirky take on various things, well only close ones know this. Nothing stops her from personifying the creative game.