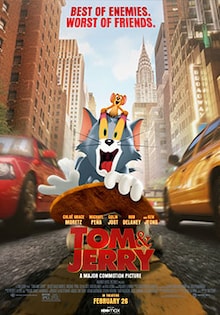 Watch On Amazon Prime
Tom & Jerry (2021 film)
English, Hindi, Tamil, Telugu
Updated: Jul 28, 2021
User Rating
2.5 ★
(Rating: 2.5/5 - 2 votes)
Tom & Jerry (2021 film): Release Date, Trailer, Songs, Cast
| | |
| --- | --- |
| Release Date | 19th Feb 2021 |
| Language | English, Hindi, Tamil, Telugu |
| Genre | Animation, Comedy |
| Duration | 1 hrs 41 mins |
| Cast | Chloë Grace Moretz, Michael Peña, Colin Jost, Rob Delaney, Ken Jeong |
| Director | Tim Story |
| Producer | Chris DeFaria |
| Music Director | Christopher Lennertz |
| Certificate | U/A |
| Cinematography | Alan Stewart |
| Production | Warner Animation Group, The Story Company, Turner Entertainment Co. |
| Your Rating: | |
About Tom & Jerry (2021 film) Movie
Your favourite cartoon Tom & Jerry is a new Hollywood movie that is based on the characters of the same name that have been created by William Hanna and Joseph Barbara. This animated comedy film is directed by Tim Story, written by Kevin Costello, produced by Warner Animation Group and Turner Entertainment while distributed by Warner Bros. It stars Chloë Grace Moretz, Rob Delaney, Michael Peña, Colin Jost and Ken Jeong in live roles and the voices of Tom and Jerry is given by Mel Blanc and June Foray. Tom and Jerry movie has released on the 19th February 2021.
Tom & Jerry (2021 film) Movie Ticket Offers, Online Booking, Ticket Price, Reviews and Ratings
Tom & Jerry (2021 film) Movie Review
Tom and Jerry have been that one cartoon, without watching which, one's childhood is incomplete. So, if you are looking for a trip to the '90s and re-live your childhood, Tom and Jerry will definitely succeed in doing that but with a little advancement in the animations and storyline.
The director of the movie, Tim Story, has made sure that the classic feel of Tom and Jerry and the modern story of the film goes hand in hand. The story of the film is about the adventurous journey of Tom and Jerry when they are forced to work together. The screenplay of the movie does a great job in doing justice to the story of the film and in showing the relationship between the two of them. Though the film restrains in keeping the attention of the audience as it juggles between the human drama and comedy of the duo, it still does not take away the essence of the characters giving the audience a fun and nostalgic trip to their childhood.
All in all, fasten your seat belts to re-live your childhood because Tom and Jerry movie is definitely going to take you back to those carefree days.
Tom & Jerry (2021 film) Movie Trailer
Take a look at the hilarious comic Tom and Jerry official trailer and ride yourself back in the days of 80's and 90's.

Viveka is known to her friends as a movie junkie who is also a creative fashion enthusiast in red lipstick. She's passionate about writing! Be it fashion, beauty or movies she is pro. In her free time, she loves to play badminton, cook and binge watch movies. She's also a great observer who has a quirky take on various things, well only close ones know this. Nothing stops her from personifying the creative game.
Related Hollywood Movies