Total Dhamaal
Hindi
Updated: Jun 06, 2020
User Rating
3.3 ★
(Rating: 3.3/5 - 32 votes)
Total Dhamaal: Release Date, Trailer, Songs, Cast
| | |
| --- | --- |
| Release Date | 22nd Feb 2019 |
| Language | Hindi |
| Genre | Comedy |
| Duration | 2 hrs 7 mins |
| Cast | Ajay Devgn, Anil Kapoor, Madhuri Dixit Nene, Riteish Deshmukh, Arshad Warsi, Javed Jaffrey, Esha Gupta, Boman Irani |
| Director | Indra Kumar |
| Producer | Ajay Devgn, Indra Kumar, Ashok Thakeria, Sri Adhikari Brothers, Anand Pandit, Fox Star Studios, Jayantilal Gada, Sangeeta Ahir |
| Music Director | Himesh Reshammiya |
| Certificate | U/A |
| Cinematography | Keiko Nakahara |
| Production | Ajay Devgn FFilms, Maruti International, Fox Star Studios, Pen India Limited, Mangal Murti Films |
| Critics Rating | |
| Your Rating: | |
About Total Dhamaal Movie
Total Dhamaal is a 2019 Bollywood comedy movie which is the third installment of the Dhamaal film series. It is directed and co-produced by Indra Kumar. Total Dhamaak is the sequel to 2011 film Double Dhamaal. It is a multi-starer movie that features Ajay Devgn, Anil Kapoor, Madhuri Dixit, Riteish Deshmukh, Arshad Warsi, Javed Jaffrey, Esha Gupta and Boman Irani to the lead cast. The director of the movie revealed that he made Anil and Madhuri jump from 300 feet and cross the bridge that was 200 feet in height. He further elaborated saying that the actors had "gut" to do stunts like great professionals. He made them do this, as he didn't want to use stunt-double or duplicates and wanted the stars to perform their stunts by themselves.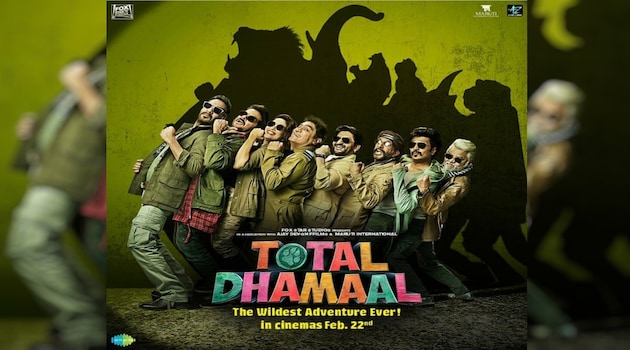 Total Dhamaal Movie Ticket Offers, Online Booking, Ticket Price, Reviews and Ratings
Total Dhamaal Movie Review
Total Dhamaal is actually a remake of Dhamaal from 2007. The actors are brought together to chase a Rs. 50 crore in loot. Anil Kapoor and Madhuri Dixit Nene will be seen cribbing all the time for the divorce. Ajay Devgn and Sanjay Mishra are well-groomed thugs, Riteish Deshmukh and Pitobash are firemen who charge premium amounts for the rescue of residents from a exploded burning building. Arshad Warsi and Javed Jaffrey are constantly struggling with the smart car and last but not the least Boman Irani will be seen as corrupt police commissioner in the movie. All these pairs travel through the land, sea and the sky to get hands on the money. They all come together in Zoo where animated animals are running from here to there. You will surely die due to broken hilarious humour but lastly, you'll realize that you were laughing at the comedy series which are hung together to form a plot. Multiple remix songs actually disappoint you with the belief that is there no talented lyricist and music composers left on Bollywood industry that this amount of remixes were fitted into the movie. We're pretty sure that you might get all the hints of the movie till now. Indra Kumar's Total Dhamaal demands you erase all the logical aspects that you have in your mind. Go ahead to watch Total Dhamaal only if humour can be ignored.
Watch Total Dhamaal Full Movie Online in HD:
Total Dhamaal movie is now available to watch online. This multi-starer comedy flick is true entertainment. Wait no more to watch Total Dhamaal full movie online to get on a roller-coaster ride of the hilarious journey with the Total Dhamaal cast. Glide on to the link provided below the poster of the movie to watch Total Dhamaal full movie online in HD without any interruption.
Total Dhamaal Movie Trailer
Total Dhamaal official trailer was released on 21st January 2019. The Total Dhamaal trailer was prominently full of comedy, action and rib-cracking moments, which actually reminds you that of 2011's Double Dhamaal and 2007's Dhamaal.
Total Dhamaal Movie Songs
| # | TITLE | ARTIST | DURATION |
| --- | --- | --- | --- |
| 1. | Paisa Yeh Paisa | Dev Negi, Subhro Ganguly, Arpita Chakraborty | 4:01 |
| 2. | Mungda | Jyotica Tangri, Shaan, Subhro Ganguly | 3:16 |
| 3. | Speaker Phat Jaaye | Harrdy Sandhu, Abuzar Akhtar, Aditi Singh Sharma, Jyotica Tangri | 2:58 |

Viveka is known to her friends as a movie junkie who is also a creative fashion enthusiast in red lipstick. She's passionate about writing! Be it fashion, beauty or movies she is pro. In her free time, she loves to play badminton, cook and binge watch movies. She's also a great observer who has a quirky take on various things, well only close ones know this. Nothing stops her from personifying the creative game.
...read more