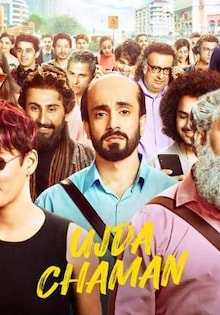 Watch On Amazon Prime
Ujda Chaman
Hindi
Updated: Jul 28, 2021
User Rating
3.4 ★
(Rating: 3.4/5 - 10 votes)
Ujda Chaman: Release Date, Trailer, Songs, Cast
| | |
| --- | --- |
| Release Date | 1st Nov 2019 |
| Language | Hindi |
| Genre | Comedy |
| Duration | 2 hrs |
| Cast | Sunny Singh, Maanvi Gagroo, Saurabh Shukla, Karishma Sharma |
| Director | Abhishek Pathak |
| Producer | Kumar Mangat Pathak, Abhishek Pathak |
| Music Director | Gourov-Roshin |
| Certificate | U/A |
| Cinematography | Sudhir K Chaudhary |
| Production | Panorama Studios |
| Your Rating: | |
About Ujda Chaman Movie
Ujda Chaman is a Bollywood movie that revolves around the condition of premature baldness. The cast of Ujda Chaman involves Sunny Singh, Maanvi Gagroo, Saurabh Shukla and Karishma Sharma in the prominent roles. The movie was released on 1st November 2019. Chaman Kohli is a 30-year old lecturer who is dealing with premature baldness condition and at the same time is in a hunt of a beautiful wife. Get ready to witness the journey of Chaman that includes a series of emotional and funny roller-coaster ride which leaves you laughing resulting with self-discovery and acceptance of inner beauty. In the below story, find the Ujda Chaman cast, release date, songs, trailer and more. Below find the link to watch Ujda Chaman full movie online in HD.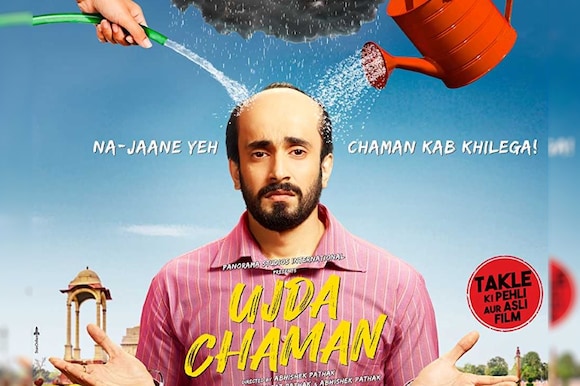 Ujda Chaman Movie Ticket Offers, Online Booking, Ticket Price, Reviews and Ratings
Ujda Chaman Movie Review
Two movies on baldness released this year one of them being Ujda Chaman which was the official remake of the Kannada film Ondu Motteya Kathe.
Ujda Chaman is about a 30-year-old college lecturer Chaman Kohli (Sunny Singh) who is desperately looking for a bride because he wants to get married but his baldness becomes a huge obstacle between him and his marriage. Irritated by the constant taunting by his parents (Atul Kumar and Grusha Kapoor) when Chaman finally consults a Guru ji (Saurabh Shukla) to know whether he will get married or not, he gets to know that if he does not get married before turning 31, he might stay a bachelor for his entire life. After knowing this he becomes restless and tries every way possible to find love so that he could get married but fails at it until he stumbles into a girl named Apsara (Maanvi Gagroo) on dating app. Their constant meetings make him confront his insecurities and accept himself the way he looks.
Ujda Chaman is the kind of film that is not just a treat to the heart but also conveys a message that it's not the outer appearance of a person but the inner beauty that makes them beautiful.
Watch Ujda Chaman Full Movie Online in HD:
Watch the tale of a bald boy and see him getting married in the Ujda Chaman movie. You can watch Ujda Chaman full movie online in HD on Amazon Prime. Gather snacks and cold drinks on your recliner or couch so that you can comfortably watch Ujda Chaman full movie online.
Ujda Chaman Movie Trailer
Ujda Chaman trailer seems as if it has brought you on a roller-coaster ride of a real-life situation which most of the men deal with. If not watched the Ujda Chaman official trailer, take a look below.
Ujda Chaman Movie Songs
Below are Ujda Chaman songs, take a look!
| # | TITLE | ARTIST | DURATION | PLAY |
| --- | --- | --- | --- | --- |
| 1. | Chand Nikla | Divya Kumar | 4:37 | |
| 2. | Twinkle Twinkle | Tochi Raina | 3:22 | |
| 3. | Outfit | Guru Randhawa | 2:41 | |
| 4. | Oh Bandeya | Yasser Desai | 5:02 | |

Viveka is known to her friends as a movie junkie who is also a creative fashion enthusiast in red lipstick. She's passionate about writing! Be it fashion, beauty or movies she is pro. In her free time, she loves to play badminton, cook and binge watch movies. She's also a great observer who has a quirky take on various things, well only close ones know this. Nothing stops her from personifying the creative game.
Related Hindi Movies