Why Cheat India
Hindi
Updated: Jun 06, 2020
User Rating
3.3 ★
(Rating: 3.3/5 - 7 votes)
Why Cheat India: Release Date, Trailer, Songs, Cast
Release Date

18th Jan 2019

Language

Hindi

Genre

Drama

Duration

2 hrs 1 mins

Cast
Emraan Hashmi, Shreya Dhanwanthary
Director

Soumik Sen

Producer

Bhushan Kumar, Krishan Kumar, Tanuj Garg, Atul Kasbekar, Parveen Hashmi

Music Director

Rochak Kohli, Guru Randhawa, Krsna Solo, Kunaal-Rangon, Agnee, Soumik Sen

Certificate

U/A

Cinematography

Y. Alphonse Roy

Production

T-Series Films, Ellipsis Entertainment, Emraan Hashmi Films Production

Budget

Rs.

20 crore
Critics Rating
Your Rating:
About Why Cheat India Movie
Emraan Hashmi is all set to debut in the production sector with its home production which has recently signed the new project named Why Cheat India. Why Cheat India is one of the awaited Bollywood movie which shall portray the edge-of-the-seat drama and crime that takes place within the Indian education system, that has apparently lead to creating a parallel ecosystem infested with the educational mafias. Why Cheat India shall take you on ride, where it shall show you the realistic glimpse of the education scam. The movie Why Cheat India stars Emraan Hashmi and Shreya Dhanwanthary in the lead roles.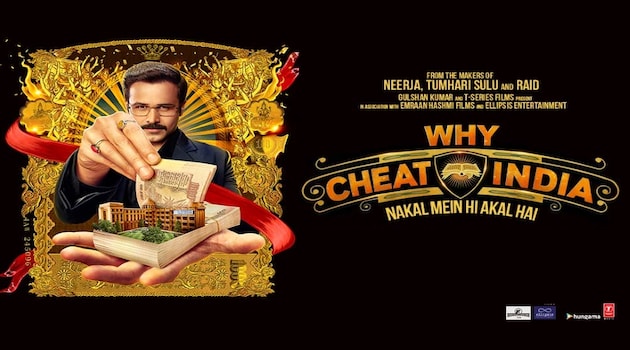 Why Cheat India Movie Ticket Offers, Online Booking, Ticket Price, Reviews and Ratings
Why Cheat India Movie Review
Why Cheat India movie throws a prominent layout of the education system which is currently running in India. How corrupted the Indian education system has become is becoming India's favourite genre for all Bollywood directors. Soumik creates a reasonable first half where you get to journey of every parent and student who want to score good marks to get through a well-renowned college for a better and handsome future. The movie also shows the journey of students who can't get through the competition but still make into good colleges by making the poor students fight the exams in place of them, which is where cheating culture is exposed. The actual struggle of every student is shown in quite a promising manner which looks convincing. The cast of the movie is doing there best in their respective parts. The second half becomes more huge but a little boring to be precise. The story track was lost and the purpose seemed forced. Why Cheat India lacks in direction and also in the story where it loses the grip which makes the movie look lame and boring. Still, you can watch Why Cheat India online in HD to see the deconstructive format of the Indian education system which has taken over billions in the society. Stating it as one time watch you can slip into the below link to watch Why Cheat India online.
Watch Why Cheat India Full Movie Online in HD:
Missed on the opportunity to watch Why Cheat India in theatres? Worry not, here we bring you the links where you can watch Why Cheat India full movie online in HD without any hassle. In Why Cheat India, you get to see how education mafias in India promote cheating during exams and show how actually the education system is running in India these days.
Why Cheat India Movie Trailer
The official Why Cheat India trailer was released on 11th December 2018. The trailer of Why Cheat India prominently depicts the plot of the story. Take a look of the Why Cheat India trailer to get a brief of the movie.
Why Cheat India Movie Songs
The music of the Why Cheat India is composed by Rochak Kohli, Krsna Solo, Kunaal-Rangon, Guru Randhawa, Agnee and Soumik Sen. On the other hand, the lyrics of the Why Cheat India songs are penned by Kumaar, Kunaal Verma, Guru Randhawa, Manoj Muntashir and Juhi Saklani. Songs like "Daaru Wargi" and "Dil Mein Ho Tum" groped quite a lot attention of the music listeners.
| # | TITLE | ARTIST | DURATION | PLAY |
| --- | --- | --- | --- | --- |
| 1. | Daaru Wargi | Guru Randhawa | 3:22 | |
| 2. | Dil Mein Ho Tum | Armaan Malik | 5:27 | |
| 3. | Phir Mulaaqat | Jubin Nautiyal | 4:10 | |
| 4. | Kaamyaab | Agnee Mohan Kannan | 2:55 | |
| 5. | Taiyaari | Soumik Sen | 4:19 | |
| 6. | Stupid Saiyaan | Prabhjee Kaur | 4:10 | |
| 7. | Phir Mulaaqat (Female) | RII | 4:11 | |
| 8. | Dil Mein Ho Tum (Female) | Tulsi Kumar | 3:18 | |

Viveka is known to her friends as a movie junkie who is also a creative fashion enthusiast in red lipstick. She's passionate about writing! Be it fashion, beauty or movies she is pro. In her free time, she loves to play badminton, cook and binge watch movies. She's also a great observer who has a quirky take on various things, well only close ones know this. Nothing stops her from personifying the creative game.
...read more