Bholaa Movie Ticket Offers, Booking, Price: Book Movie Ticket Online on BookMyShow, Paytm
Ajay Devgn and Tabu starer Bholaa movie is released in the theatres on March 30th 2023. Find top Bholaa movie ticket offers from BookMyShow, Paytm and more below to seamlessly book Bholaa movie ticket online.
Bholaa Movie Ticket Offers: Book Bholaa Movie Ticket Online on BookMyShow, Paytm
Bholaa movie have released on March 30th 2023 and we're already owed by the performance and storyline. In the below story, we bring you some amazing Bholaa movie ticket booking offers from BookMyShow, Paytm and more so that you can book your movie tickets without spending a fortune.
Bholaa Movie Ticket Booking Offers
Take a look at the top Bholaa movie ticket booking offers from BookMyShow, Paytm and more. Watch Ajay Devgn and Tabu in this action-drama flick. Time to book Bholaa movie tickets at affordable prices.
Bholaa BookMyShow Movie Ticket Booking Offers
Bholaa Cast, Release Date And The Plot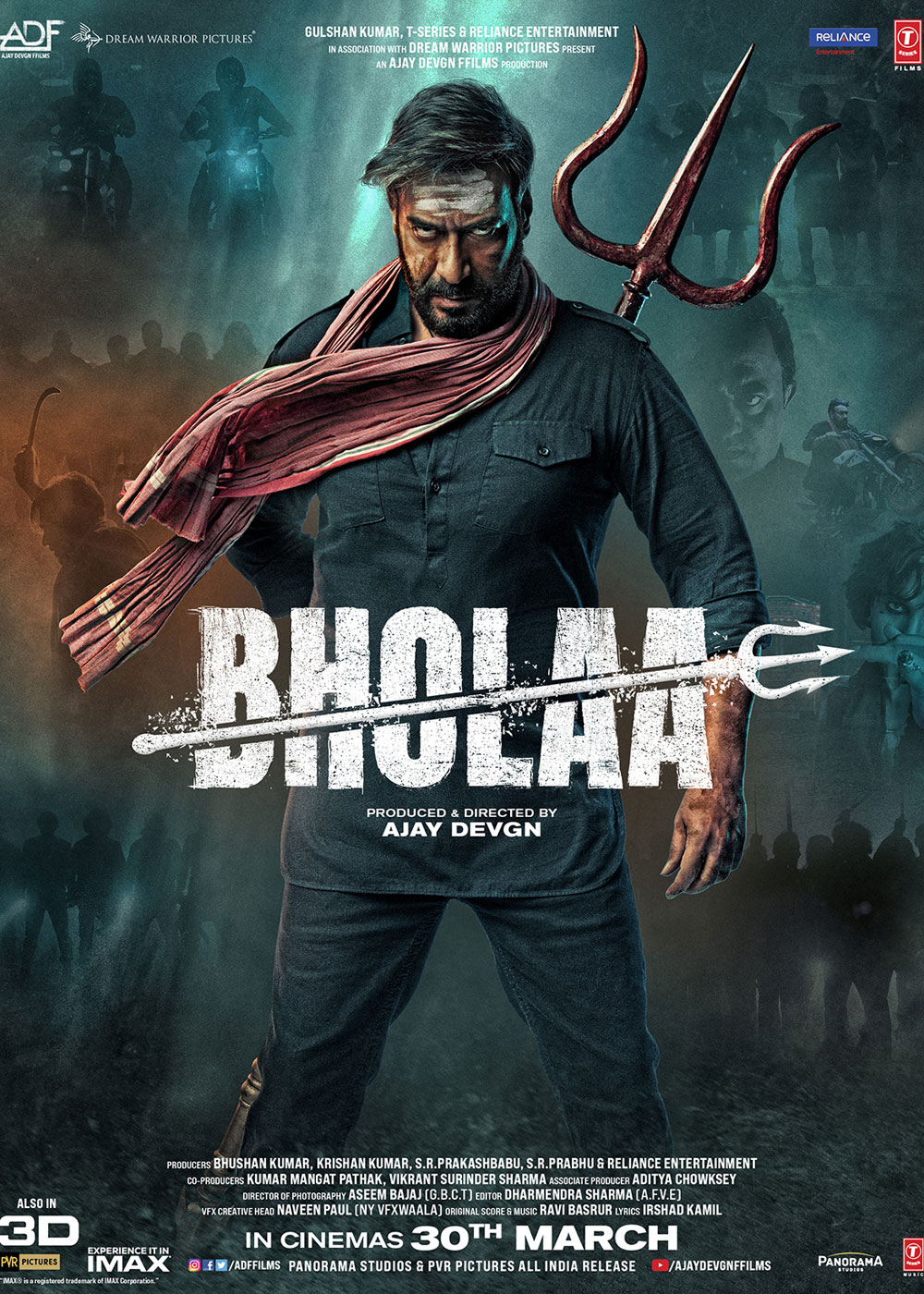 Watch On Amazon Prime
Bholaa
Bholaa's plan to meet his daughter is interrupted when he gets stuck into a well-orchestrated drug bust.
Release Date:

30th March 2023

Language

Hindi

Genre

Action, Drama, Thriller

Duration

2 hrs 15 mins

Cast:

Ajay Devgn, Tabu, Sanjay Mishra, Deepak Dobriyal, Raai Laxmi, Kiran Kumar, Makrand Deshpande, Jahangir Khan, Vineet Kumar, Ketan Karande, Arpit Ranka, Amit Pandey, Lokesh Mittal, Dhaniram Prajapati, Hirva Trivedi

Director:

Ajay Devgn

Producer:

Ajay Devgn, S.R. Prabhu, Shibashish Sarkar

Music Director:

Ravi Basrur

Production:

Ajay Devgn FFilms, T-Series Films, Reliance Entertainment, Dream Warrior Pictures
Bholaa Official Trailer
Take a look at the Bholaa official trailer below and alongside find the top Bholaa movie ticket booking offers to book Bholaa movie tickets online.
Interesting Things About Ajay Devgn Starrer 'Bholaa'
Ajay Devgan starer Bholaa has amazing two teasers and gripping official trailer. Below we bring you some interesting facts about the latest Bollywood movie, Bholaa.
Official Remake: Bholaa is the official remake of the Tamil movie, Kaithi (2019 film) but despite that Bholaa movie has so much more to offer. Many scenes and cinematics are new and fresh. The storyline has been changed a little as well. Kaithi movie was entirely shot in the night but that is not the case with Bholaa. So, if you have seen Kaithi and are not that excited about Bholaa we would suggest to rethink that as you would definitely be missing out.
Thoughful Casting: The makers of the film were very precise about the fact that they don't necessarily want young or influential actors but wanted people who are well experienced and refined in their art. We think this thought process might eventually lead to the success of the film. We have Ajay Devgan, Tabu, Deepak Dobriyal, Sanjay Mishra and so many more great actors.
Strong Female Roll: The film makers have formulated a strong and empowering female role that will be played an acer, Tabu, which we believe will be appreciated by the audience. She is the main police officer in the film and comes out as an independent female who fears none.
Pure Action: We all are shook after watching the action in just the teaser, and can't even imagine the action we will be watching in the whole movie. The car crashes to the fighting scenes each bit of action is well captured and gives thrill to the audience. We were covered in goosebumps and pretty sure you all would be too.
Cinematography and Visuals: We think that this movie is just the start of a mind-blowing cinematic universe. Let's make it clearer to you, the famous cop movies by Rohit Shetty are just the right example. We are pretty sure that just like John Wick movie universe Bholaa will also lead to a crazy cinematic universe.
3D: This movie is going to be launched in 3D, EXCITTING !!! wait there's more. This movie is directed by Ajay Devgan himself and like other movies directed by him this will be mind-blowing too.
The HotDeals360 team writes about stuff we think you'll like. HotDeals360 has affiliate partnerships, so we get a share of the revenue from your purchase.

Viveka is known to her friends as a movie junkie who is also a creative fashion enthusiast in red lipstick. She's passionate about writing! Be it fashion, beauty or movies she is pro. In her free time, she loves to play badminton, cook and binge watch movies. She's also a great observer who has a quirky take on various things, well only close ones know this. Nothing stops her from personifying the creative game.